Chicken Burrito Bowl {Build Your Own}
[ad_1]

This Chicken burrito bowl is so easy and adaptable to your taste. It is a light, healthy, and filling meal great for lunch or dinner.
I love a light, simple lunch that is ready in minutes! While I love soups and salads, sometimes I want something a little heartier and this Chicken Burrito Bowl hits the spot!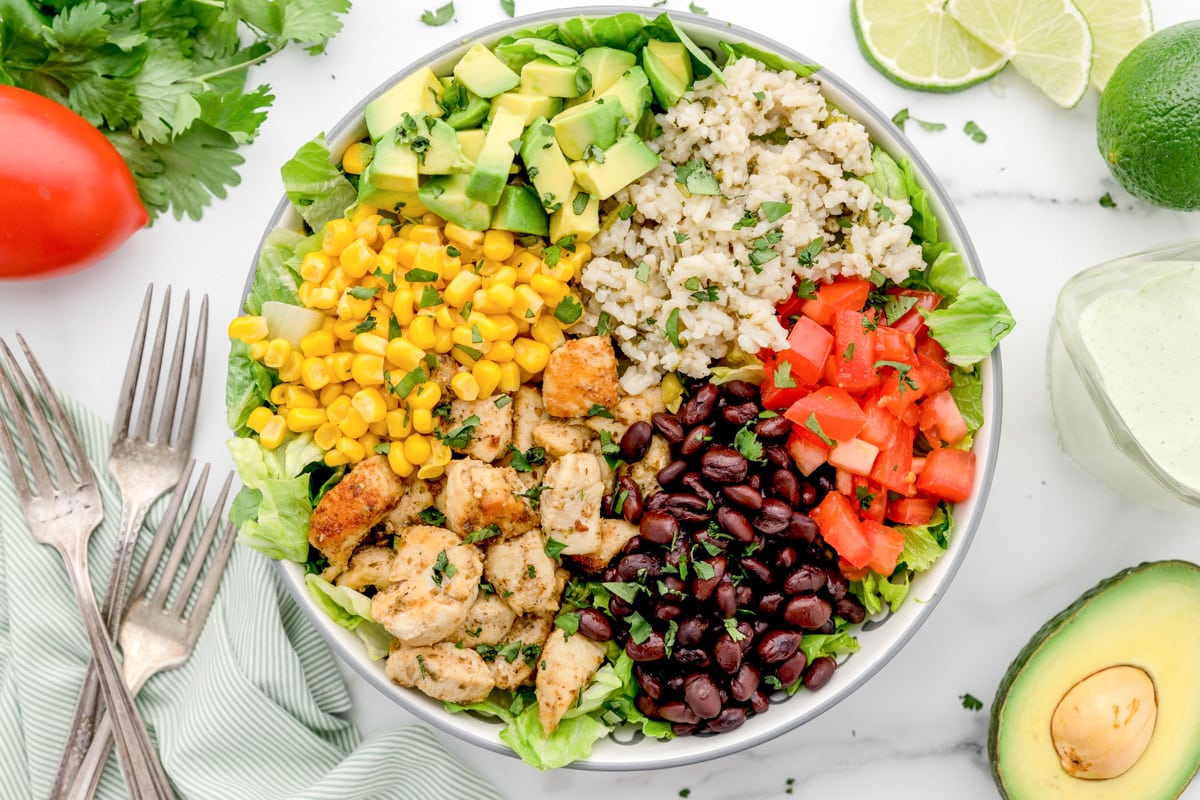 A Burrito Without the Tortilla
I love me some tacos and burritos!! There are simple and SO delicious!
We eat a lot of Mexican food in our house. I love that you can take the same ingredients, mix it up, and create something new.
That's exactly what I did with this Chicken Burrito Bowl. It is essentially a deconstructed burrito with all of the extras.
Not only is this super tasty, it whips up in no time!! It's also easy to customize and is great for a family meal since everyone can build their own dinner.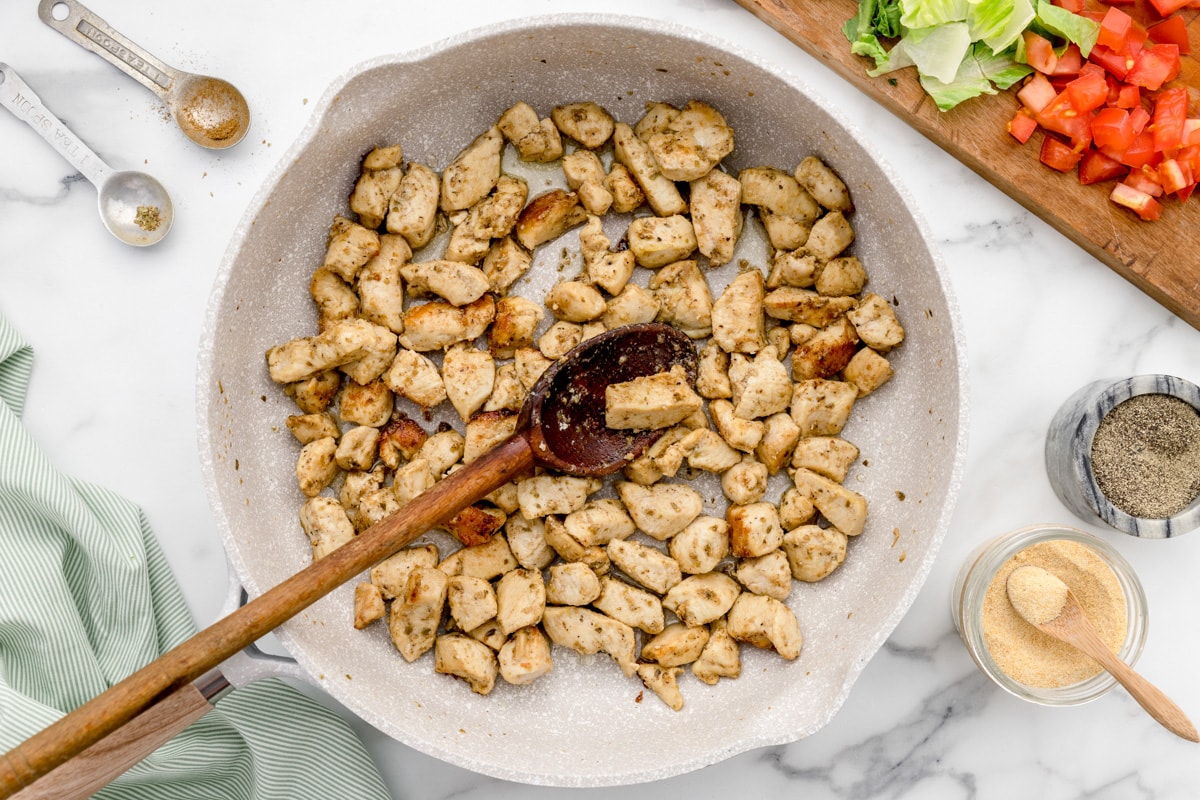 Making Chicken Burrito Bowls
PREP. Preheat the oven to 350°F. Arrange the four oven safe bowls on a baking sheet.
TORTILLAS. Add a drizzle of olive oil to a large skillet and heat it to medium high heat. Fry each side of the tortilla for 30-40 seconds. Transfer the fried tortilla to one of the oven safe bowls. Tuck the tortillas into the bowl until it fits snugly. Repeat for each tortilla. 
BAKE. Place the baking sheet containing the bowls into the oven and bake for 12-15 minutes until crisp.
Additional toppings:
One of the best things about a Homemade Burrito Bowl is you get to control exactly what goes into it. You can easily exchange any of the ingredients for something different or simply add to what we already suggest. Here are some common ingredients that you might like to try using:
Shredded cheddar cheese
Wedge of lime to spritz lime juice
Salsa, Pico de Gallo, Hot sauce
Romaine lettuce, Chopped cilantro
Substitute ground turkey, Substitute ground beef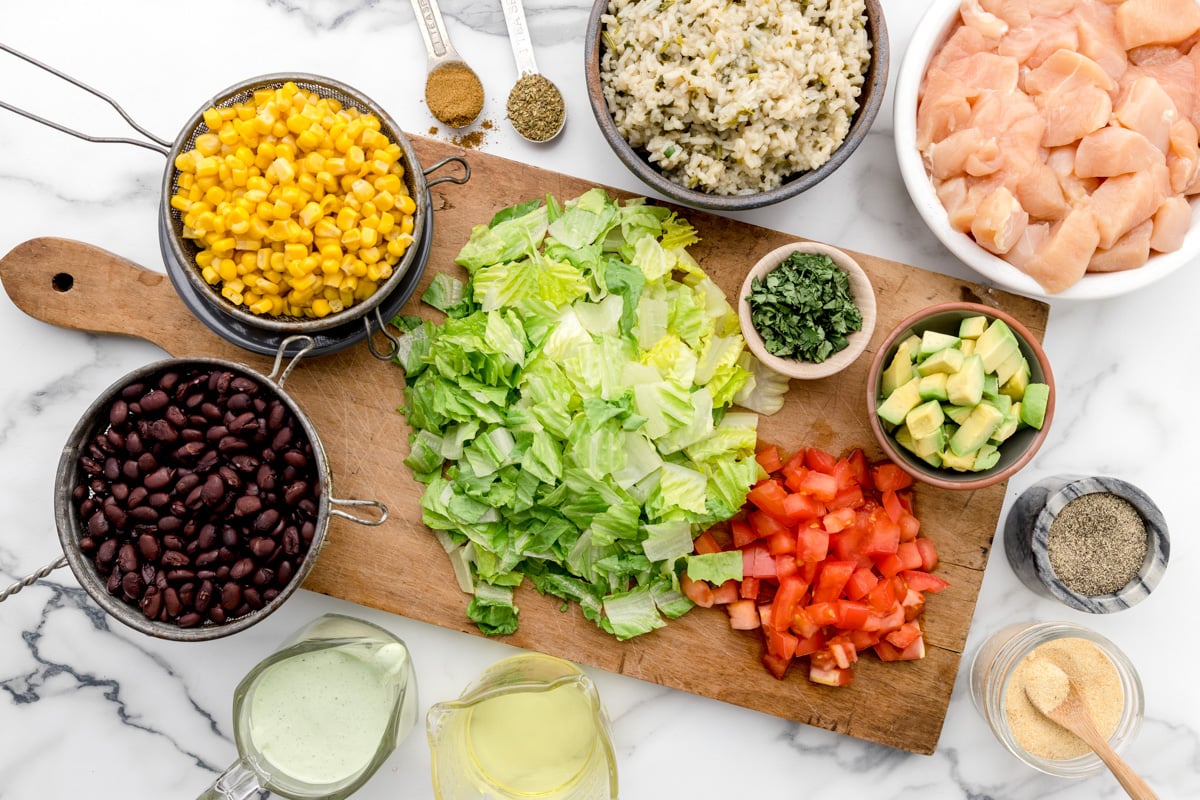 Variations
This is seriously such an easy recipe and you can change it up by adding in whatever you or your family likes. Another plus side is that you can pack this ahead of time to take to school or work and eat it later.
Additional chicken recipes: You can make chicken specifically for this recipe or use leftovers. In fact, many of the following recipes can be served on one night and the leftover chicken can be used in this Chicken Burrito Bowl recipe.
Other rice options: The Cilantro Lime Rice we used to create this dish adds a lot of delicious flavor. Like other elements it can be exchanged for different types of rice such as: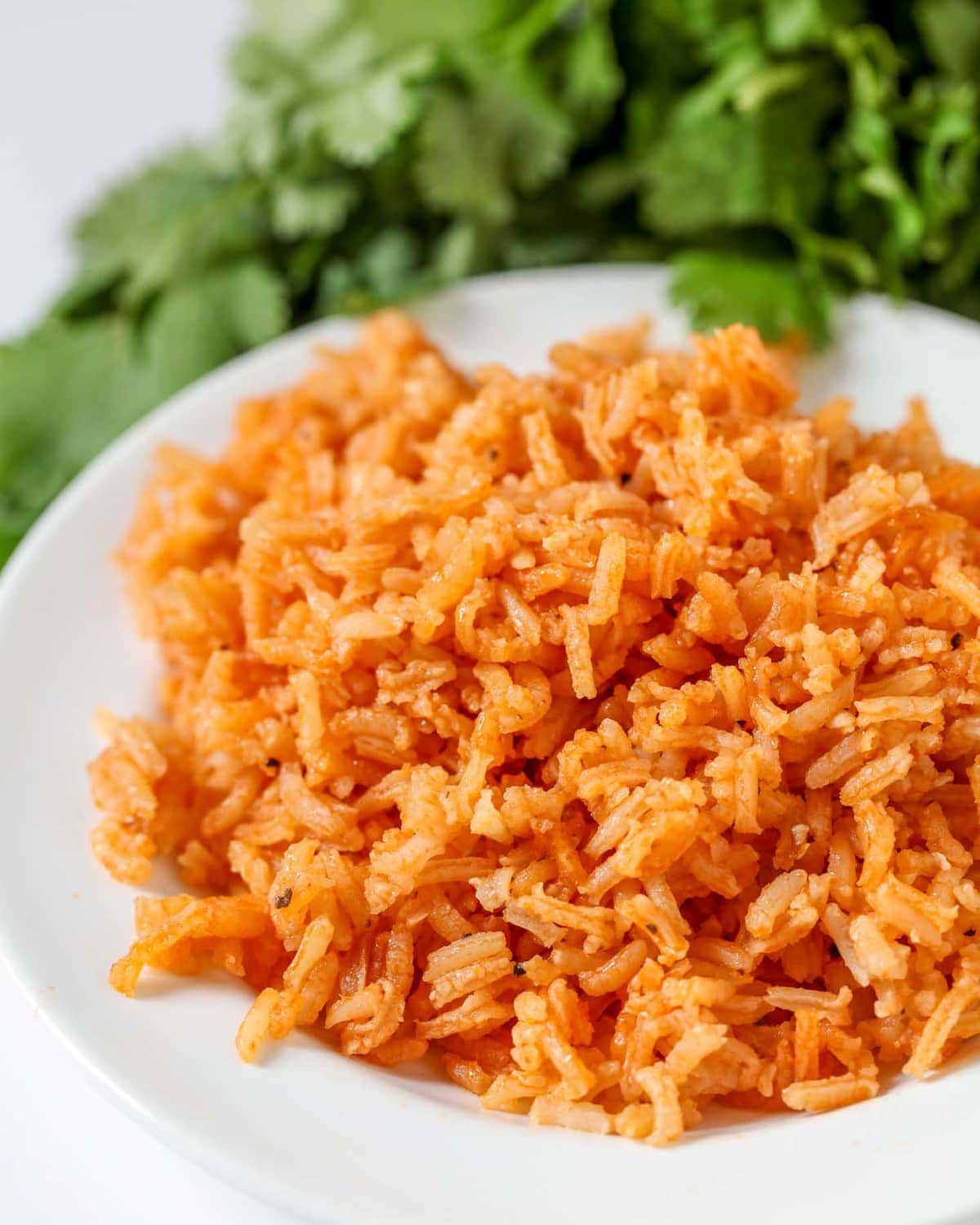 Continued…
More dressing options: This recipe includes a delicious Creamy Cilantro lime dressing that helps bind all the elements together. Of course, you can use your favorite dressing or try some other homemade recipes:
Meal Prepping Tips
Except for the avocados the different elements can be prepped ahead of time. The chicken, rice and dressing can all be made 1-2 days ahead of time and stored in separate containers in the fridge. The chicken and rice can even be frozen for longer storage. Thaw and reheat before adding to the bowl.
The lettuce, beans, corn and tomatoes can be prepared 1-2 days before. Store them in separate containers in the fridge until ready to assemble the bowls.
Homemade Taco Bowl: You can buy premade large taco shells, but making your own is much easier than you think. You'll need:
4 large flour tortillas
4 oven safe bowls (The diameter of the bowls should be a couple of inches smaller than the tortillas)
Olive Oil
Skillet
Baking tray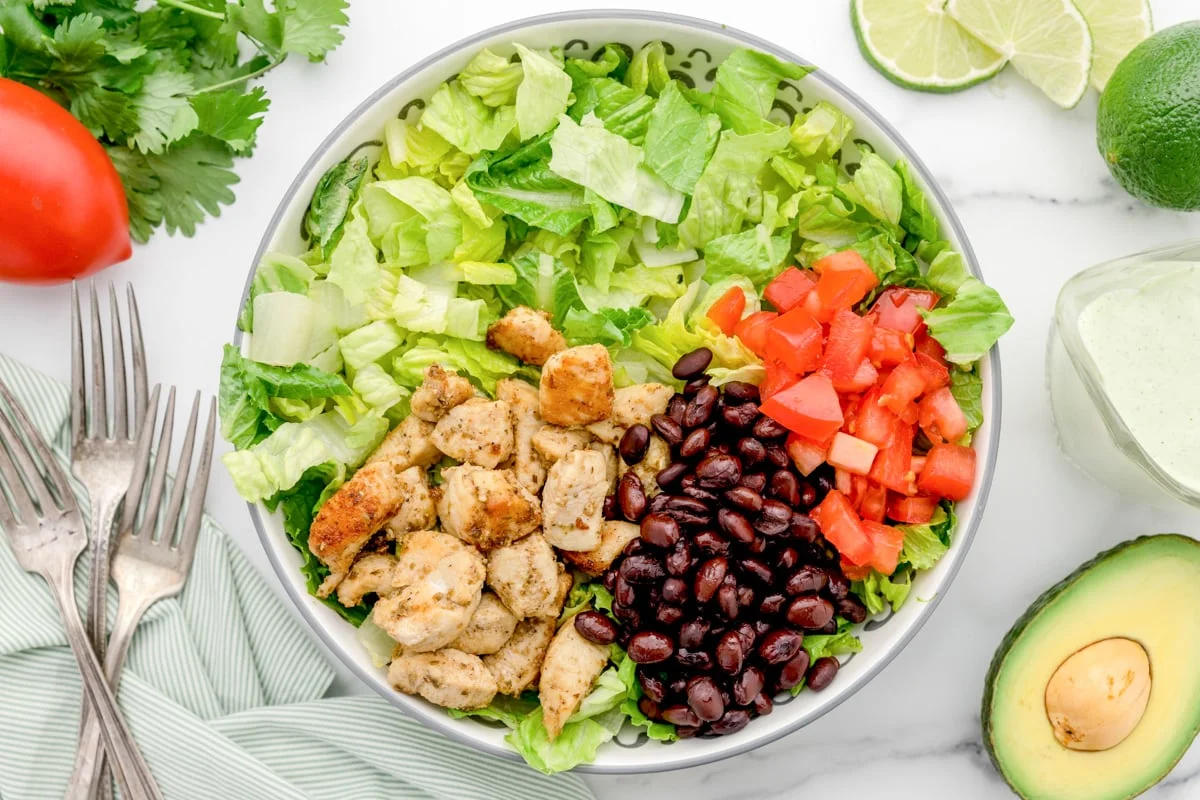 Make and Take
Make sure to portion out the rice, black beans, greens, and veggies in a tupperware container. Separate the dressing and chicken from the rest of the bowl to keep everything crispy.
To STORE leftovers, separate the chicken from the salad so the chicken doesn't get mushy from the excess water in the salad.
Leftovers can be stored in an airtight container in the fridge for 1-2 days. The avocados will brown, but they will still be ok to eat.
Reheating gets a bit trickier. Remove as much of the lettuce and avocados as you can; everything else can be heated in the microwave or in the oven. Once hot, add the lettuce and avocados back into the bowl. You can also simply use fresh lettuce and avocado.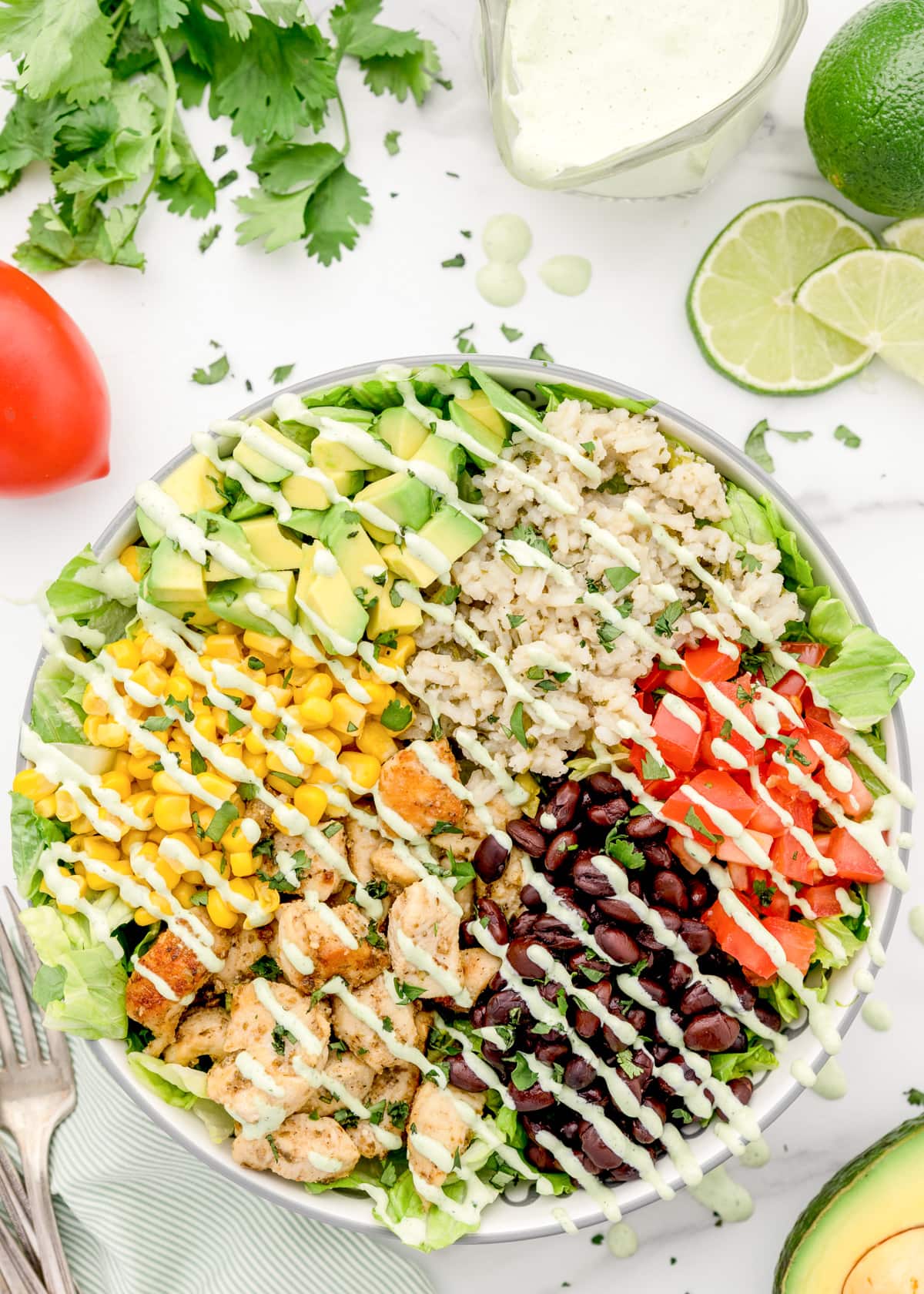 More Mexican Dishes:
Favorite Mexican Desserts:
Add ¼ cup oil to a skillet and cook chicken on medium heat. Sprinkle with garlic salt, pepper, cumin and oregano while cooking. Cook until no longer pink. Drain and set aside.

Assemble bowls by dividing the rice mixture (about 1 cup per bowl) with lettuce, corn, black beans, tomatoes, avocado and cilantro.

Drizzle with cilantro ranch dressing.
[ad_2]

Source link