Refreshing Pineapple Ginger Beer Mocktail
[ad_1]

This 4 Ingredient Pineapple Ginger Beer Mocktail is a tropical fiesta for your taste buds! Made with sweet pineapple juice, fresh blackberries, zesty lime juice and bubbly ginger beer, it's an easy alcohol-free beverage that light and refreshing for the summer!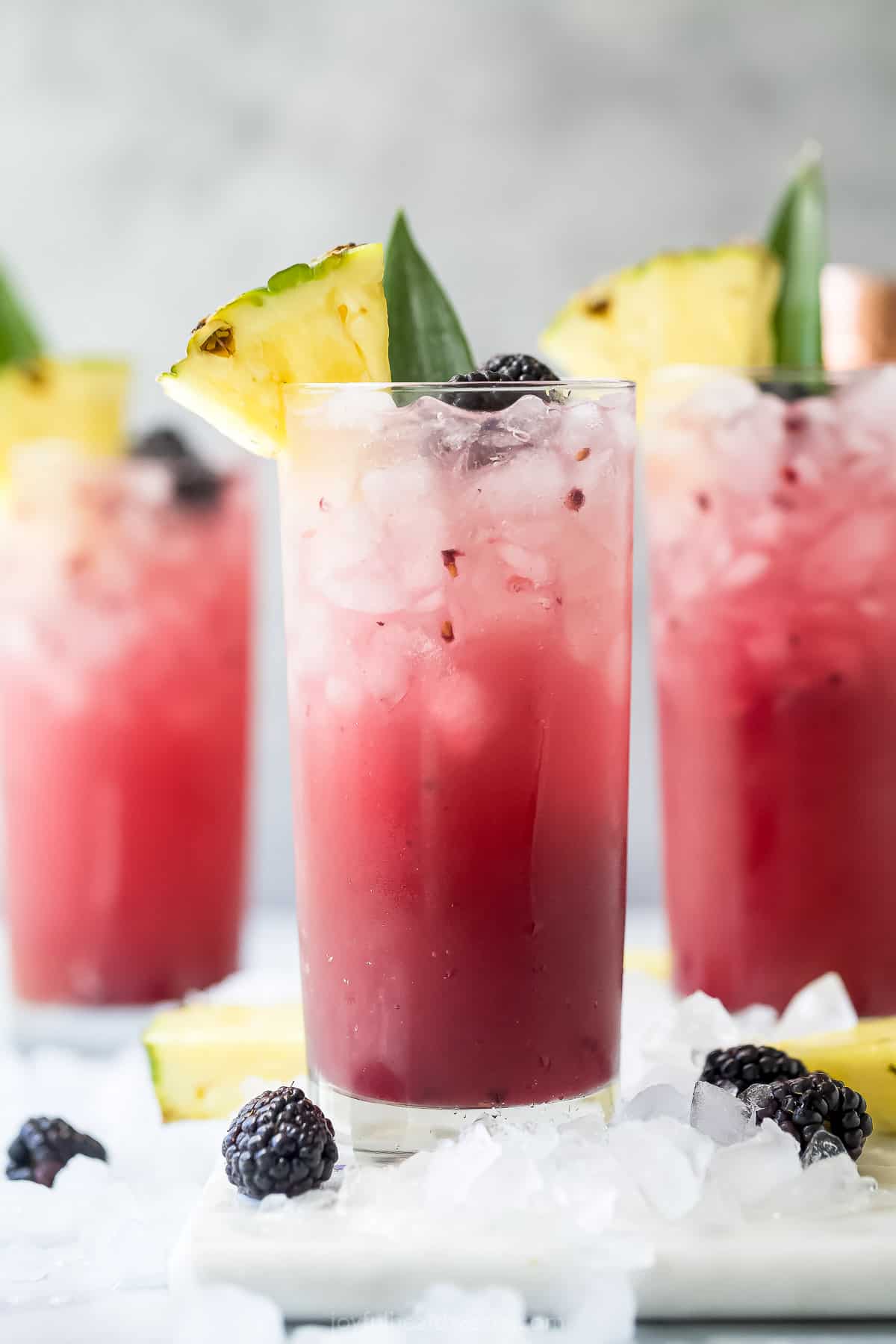 The Best Virgin Pineapple Cocktail
No matter how much you enjoy sipping on a fruity, fizzy cocktail, it's always nice to have some non-alcoholic alternatives up your sleeve. This quick and easy mixed drink is a great way to make your celebrations more inclusive – it's totally kid-friendly! Beyond that, it helps adults who don't drink alcohol feel more comfortable and welcome.
With a symphony of sweet and citrusy goodness in every sip, this mocktail is the perfect thirst-quencher for a warm summer day. When you enjoy it in the wintertime, it brings that summer day to you! And if you're ever in the mood to booze it up, you can easily do so.
The 5 minutes it takes to prepare this drink will have you feeling like a bartender in a beachside cabana. You can even get creative with it and change up the flavor!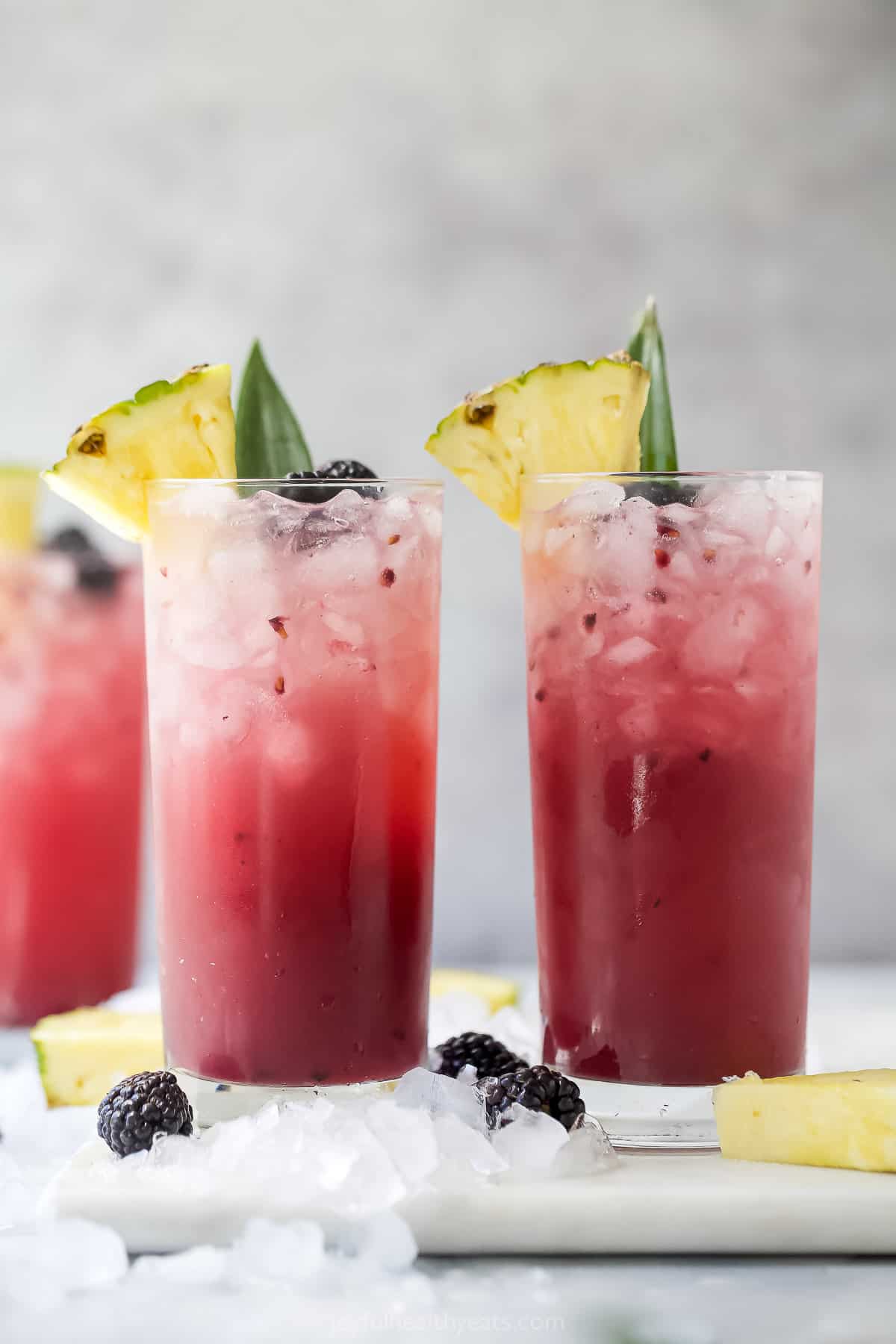 Shop This Recipe

What Is Ginger Beer?
In spite of its name, ginger beer really isn't beer at all. When it was first invented, it involved a similar fermentation process, but these days it's more like a carbonated soft drink.
Modern ginger beer typically only contains trace amounts of alcohol—think kombucha—so it's completely safe for kids. Sometimes it contains no alcohol at all. If you poke around the soda aisle at your local grocery store and check the labels, you're sure to find the kind that's right for you.
In terms of flavor, ginger beer tastes a lot like ginger ale, only it's more potent and not quite as fizzy. It's actually much healthier than most ginger ales since it uses fresh ginger and significantly less sugar.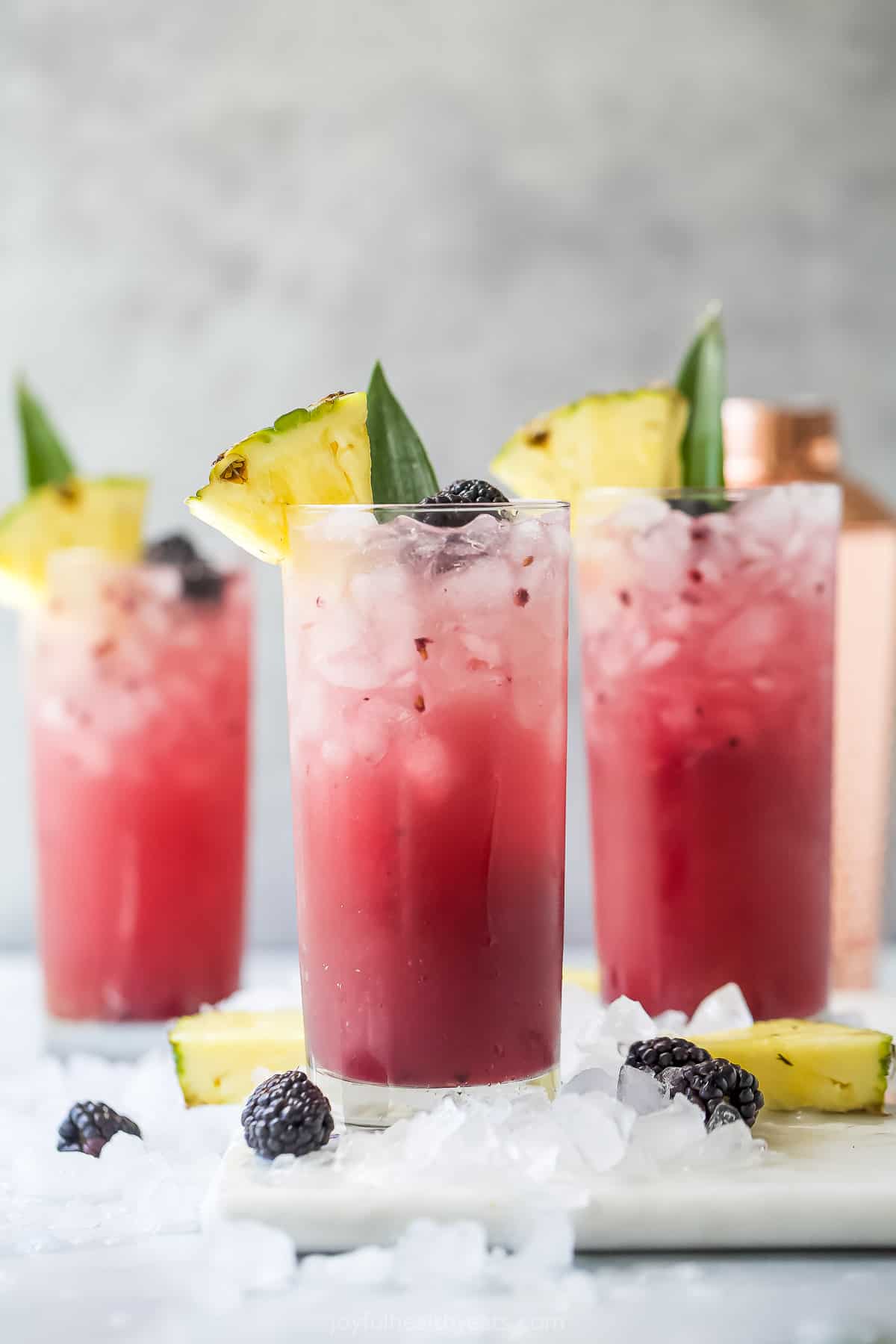 Recipe Ingredients
This flavorful pineapple mocktail only calls for 4 ingredients. You'll find the quantities in the recipe card toward the bottom of this post.
Blackberries: Stick with fresh ones whenever possible. If needed, you can thaw out frozen berries and use those instead.
Lime Juice: Freshly squeezed.
Pineapple Juice: I usually get this from a can. If you'd like to juice your own pineapple, more power to you!
Ginger Beer: I use Fever Tree's ginger beer for my mocktails.
How to Make a Pineapple Ginger Beer Mocktail
A little bit of stirring, shaking and pouring is all it takes to prepare this unforgettable drink. Let's dive in!
Muddle Blackberries: Add the blackberries to a cocktail shaker and muddle (crush & stir) them slightly.
Add Juices & Ice: Add in the fresh lime juice and pineapple juice along with a few ice cubes.
Cover & Shake: Cover and shake vigorously until the outside of the cocktail shaker gets nice and frosty.
Strain Into Glass: Fill a glass with ice, then pour in the pineapple mixture through a cocktail strainer.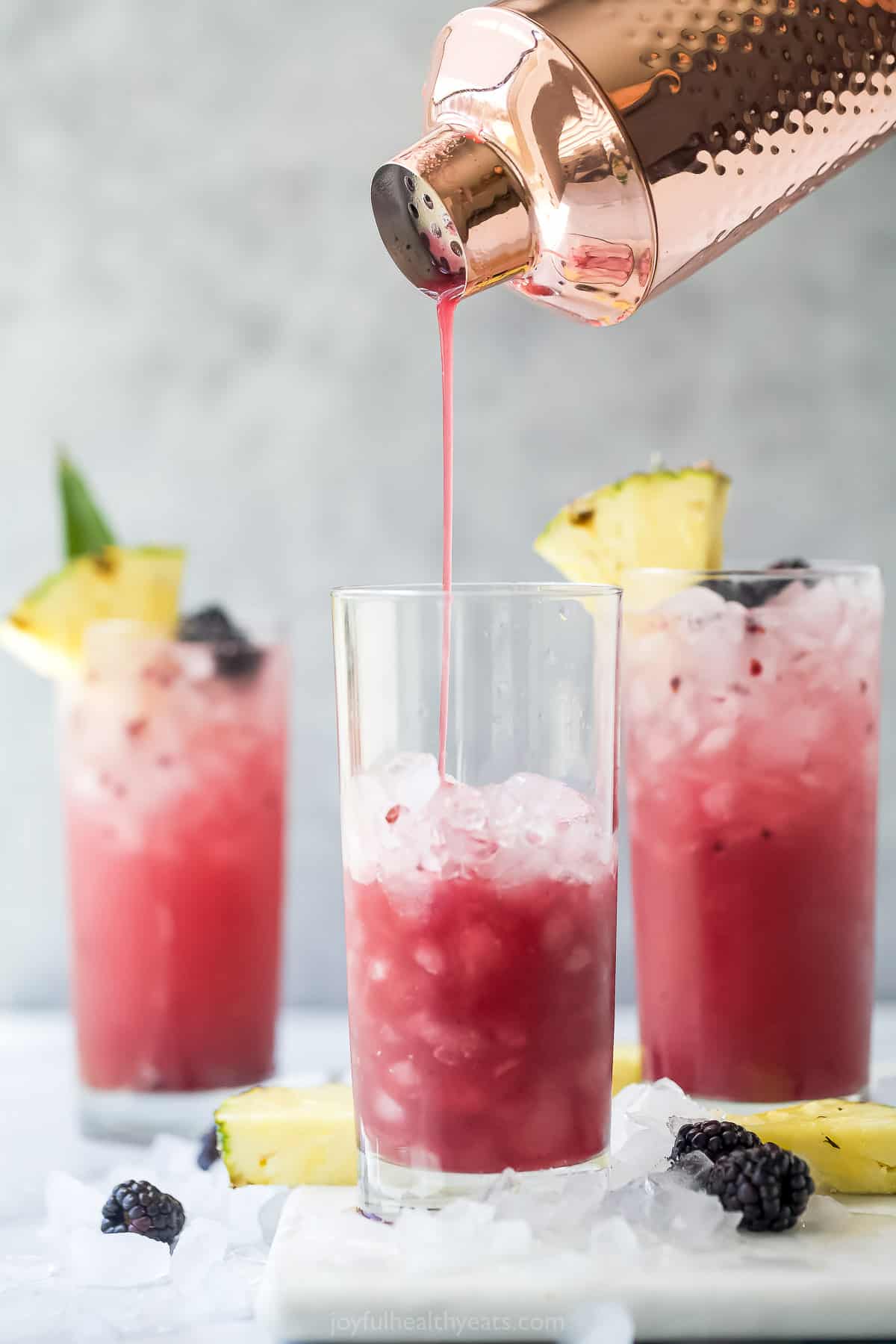 Add Ginger Beer: Top the pineapple mixture with the ginger beer.
Enjoy! Garnish the mocktail with pineapple slices and a few more blackberries if you'd like.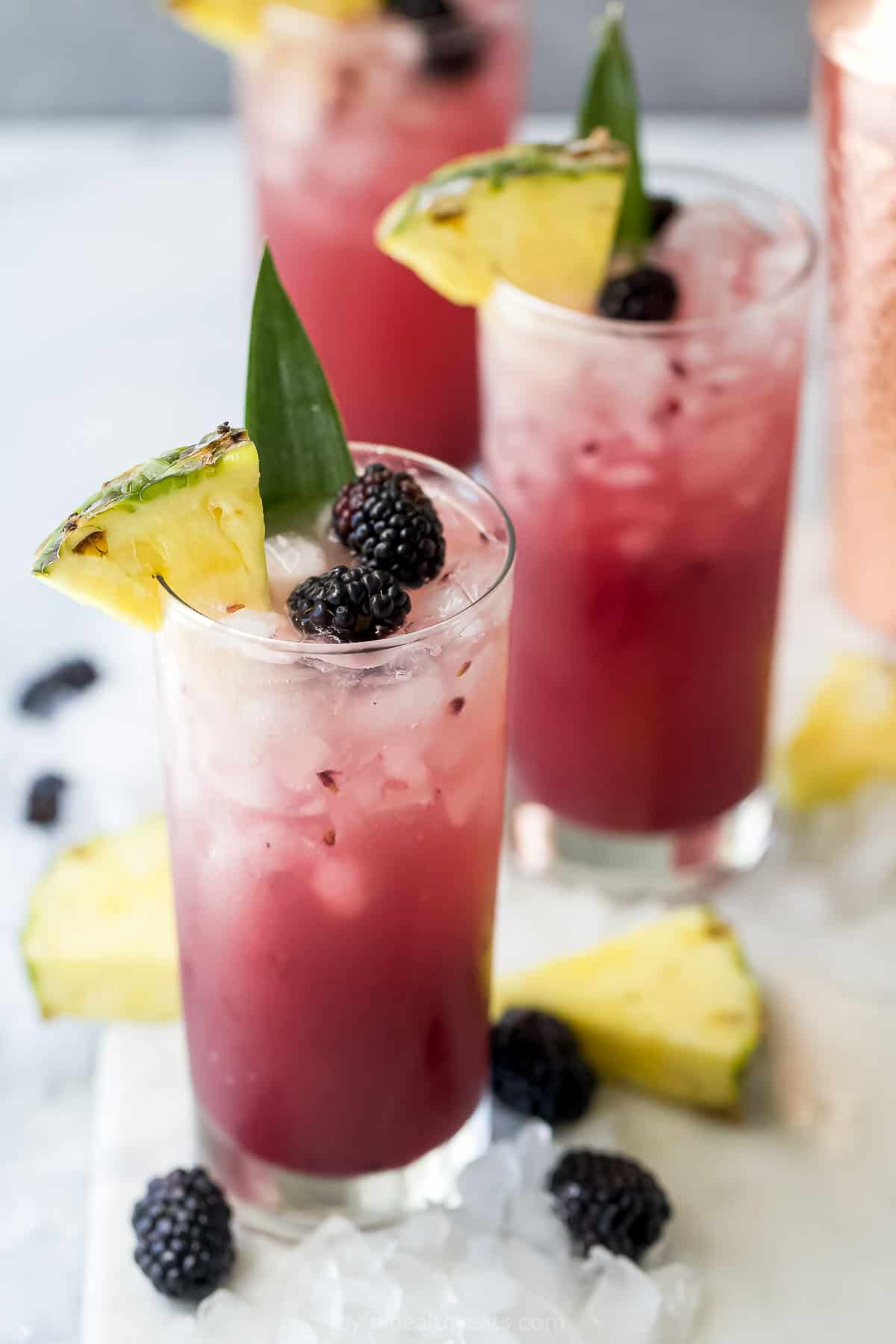 Tips for Success
Trying to brush up on your bartending skills? Here's all the advice you need to perfect this virgin mixed drink:
Don't Use Ginger Ale: Since ginger ale is quite a bit milder than ginger beer, it doesn't add the same wow factor to this mocktail. Stick with ginger beer for the best flavor.
Grab That Cocktail Strainer: I like to strain the pineapple mixture as I pour it into my glass to prevent the crushed blackberry chunks from falling in. Don't have a cocktail strainer? You can use another fine-mesh sieve like a cheesecloth or a tea strainer.
Add the Ginger Beer At the End: If you add the ginger beer to your cocktail shaker with the other ingredients, it will lose a bunch of its carbonation as you shake the mixture. Remember to save it for the end.
Variation Ideas
Feel free to customize this fruity drink however you please. There are tons of tempting possibilities!
Use Different Berries: Don't be afraid to swap out the blackberries for raspberries or another berry of your choice. You could even add two different kinds to the same drink!
Add Alcohol: Stir in one ounce of your favorite spirit to turn this mocktail into the boozy beverage of your dreams. Vodka, tequila and gin would be my top choices.
Swap Out the Pineapple Juice: Want to make this mixed drink with grapefruit juice, orange juice or passion fruit juice instead of pineapple juice? Go ahead!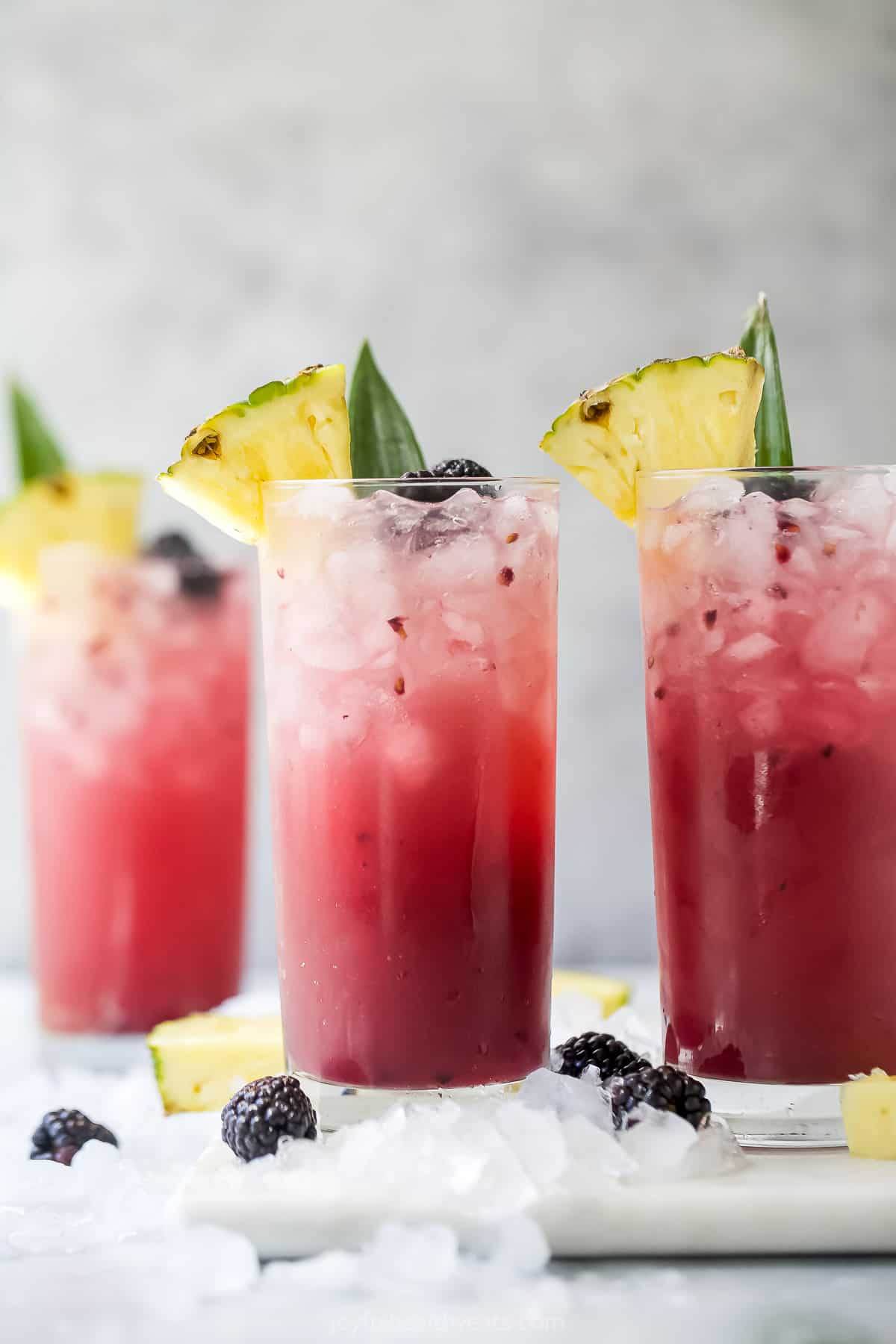 Serving Suggestions
Every satisfying drink needs a yummy munchie to go with it. I can think of countless snacks that would taste amazing alongside this mocktail – let's focus on just a few.
Pair With Chips & Hummus: A crunchy chip and a creamy dip is my idea of a match made in heaven. This easy Roasted Garlic Hummus is seriously hard to stop eating, especially with my Homemade Pita Chips! Its nutty, smoky flavor really complements the fruitiness of this drink.
Serve With Avocado Fries: These healthy Air Fryer Avocado Fries also have that irresistible combination of creamy and crunchy. They're served with two simple dipping sauces that don't disappoint – honey mustard and cilantro lime!
Pair With Tea Sandwiches: Nothing will make you feel fancier than enjoying a plate of Smoked Salmon Cucumber Tea Sandwiches alongside your mocktail. They're super easy to throw together in 15 minutes or less.
Boards. Boards and More Boards: Honestly, you can't go wrong with a classic Cheese Board or if you're feeling fancy you could make a Steak Charcuterie Board, a Burger Charcuterie Board or a Summer Cheese & Fruit Board. Trust me, they are all epic!
Can I Make This In Advance?
Yes, but not the entire mocktail. To prep this drink ahead of time, follow the recipe until you finish shaking up your pineapple mixture. Instead of straining the mixture into a glass with ice in it, strain it into an empty mason jar. Seal the jar well and refrigerate it for up to 24 hours.
When you're ready to enjoy your mocktail, simply pour in the ginger beer, add your ice and garnishes, and get ready to feel relaxed and refreshed. Stir the mixture gently before you add the ginger beer if you notice any separation.
Print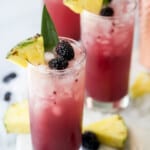 Pineapple Ginger Beer Mocktail
---
Description
This refreshing Pineapple Ginger Beer Mocktail is a tropical fiesta for your taste buds! Made with sweet pineapple juice, fresh blackberries, zesty lime juice and bubbly ginger beer, it's an easy alcohol-free beverage that always hits the spot.
Scale
Ingredients
3

blackberries

1/2 oz

. fresh lime juice

3

0z. pineapple juice

3 oz

. fever tree ginger beer
Instructions
To a cocktail shaker, add 3 blackberries and muddle slightly.
Next add in fresh lime juice, pineapple juice and a few ice cubes. Cover and shake vigorously until the cocktail shaker is frosted on the outside.
Pour through cocktail strainer into a glass filled with ice.
Top with ginger beer.
Garnish with pineapple slices and a few blackberries.
---
Notes
To Make Ahead
Follow recipe until pineapple mixture is shaken. Instead of straining it into a glass full of ice, strain it into an empty mason jar. Seal jar well and refrigerate for up to 24 hours.
When ready to enjoy, pour in the ginger beer, then add the ice & garnishes. Stir the mixture gently before adding the ginger beer if you notice any separation.
Keywords: easy mocktail, pineapple drink, virgin cocktail
More Refreshing Pineapple Drinks to Try
Obsessed with this tropical beverage? Try these ones next!
DON'T MISS A RECIPE ->


[ad_2]

Source link