Parker House Rolls – The Cookie Rookie®
[ad_1]

These gorgeous and delicious Parker House Rolls are total showstoppers! Light, fluffy with a sprinkle of flaky salt, serve with my easy homemade honey butter for an awesome side or appetizer.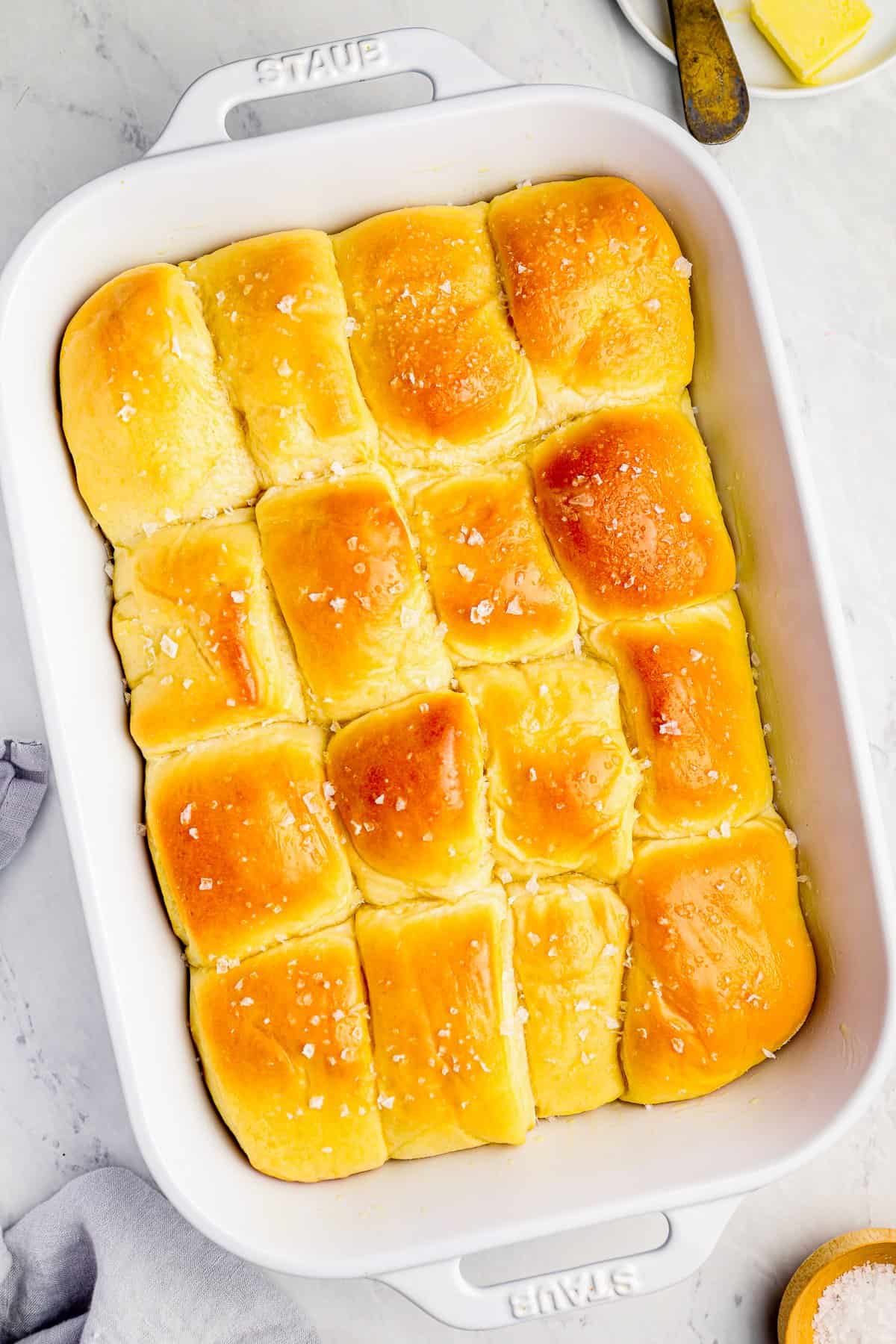 Salted Honey Butter Parker House Rolls
When it comes to bread rolls, these beautifully golden Parker House Rolls are just the best! Perfect from Easter to Christmas, they are uniquely shaped with a fold in the middle to slather in something sweet or savory – plus they are so easy to make!
Looking for more sides? Why not also try my Loaded Scalloped Potatoes or my Asian Cucumber Salad.
Why You'll Love this Recipe for Parker House Rolls:
LIGHT & FLUFFY: These rolls are super tender and melt in the mouth!
SAVORY: Dusty with some flaky salt for a subtly savory pop.
HONEY BUTTER: spread on some of my luscious and easy honey butter, for an addictively sweet and savory bite.
Baked up to fluffy perfection, these sumptuous bread clouds or perfect for any holiday season!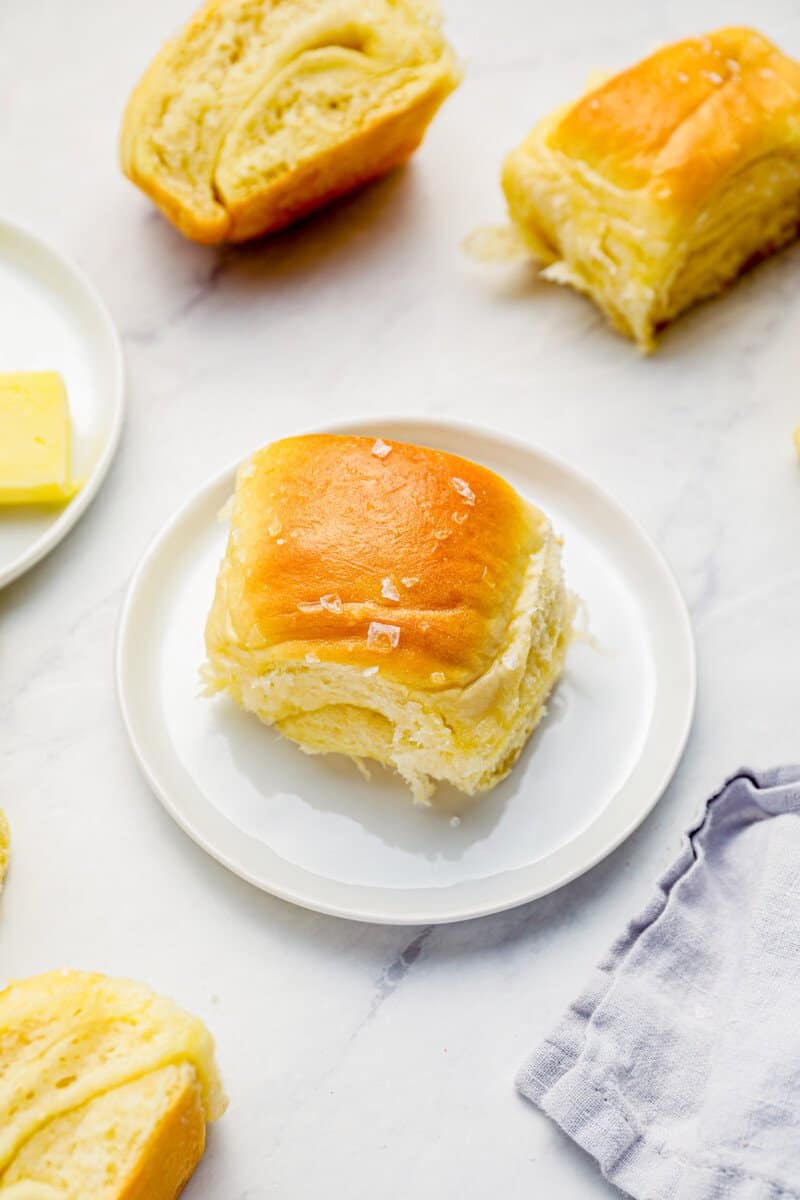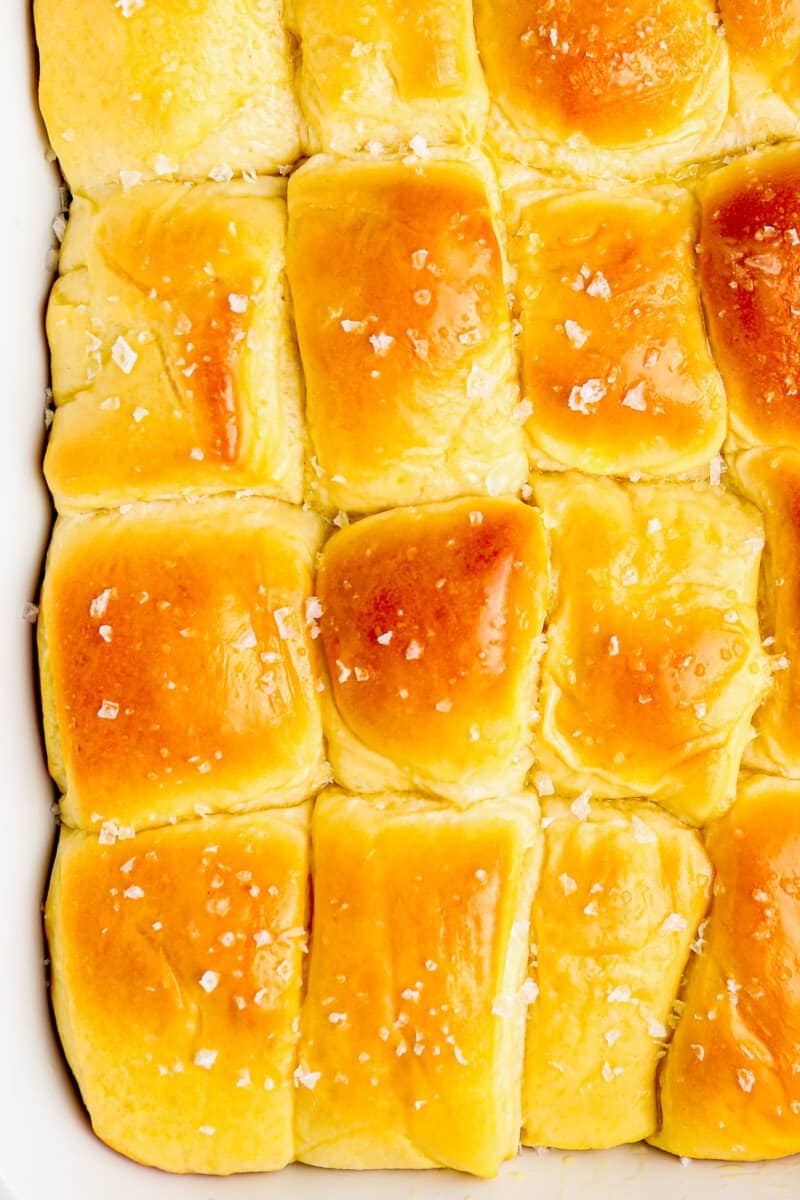 How to Make Parker House Rolls
Be sure to see the recipe card below for full ingredients & instructions!
Mix your dough in a stand mixer and allow to rise.
Punch the dough down and cut into 8 even rectangles.
Fold the rectangles over themselves.
Allow to rise in a warm place.
Bake in the oven.
Top with flaky salt and serve with honey butter.
Parker House Roll Recipe Notes
Flour: Gives the rolls their structure. All-purpose flour works great, but you can also use bread flour for chewier rolls.
Yeast: Gives the rolls their rise. Instant yeast is faster acting than active-dry yeast, which saves time.
Sugar: Feeds the yeast and adds a touch of sweetness.
Salt: Brings flavor to the rolls. Flaky sea salt on top gives a bit of crunch and an extra salty flavor.
Butter: Adds flavor and softness. Use unsalted butter for the best results.
Milk: Enriches the dough and provides moisture. Whole milk adds additional fat for a richer dough, but you can use whatever milk you have on hand.
Egg: Adds richness to the bread.
Honey: An optional ingredient that adds a bit of sweetness and contrast.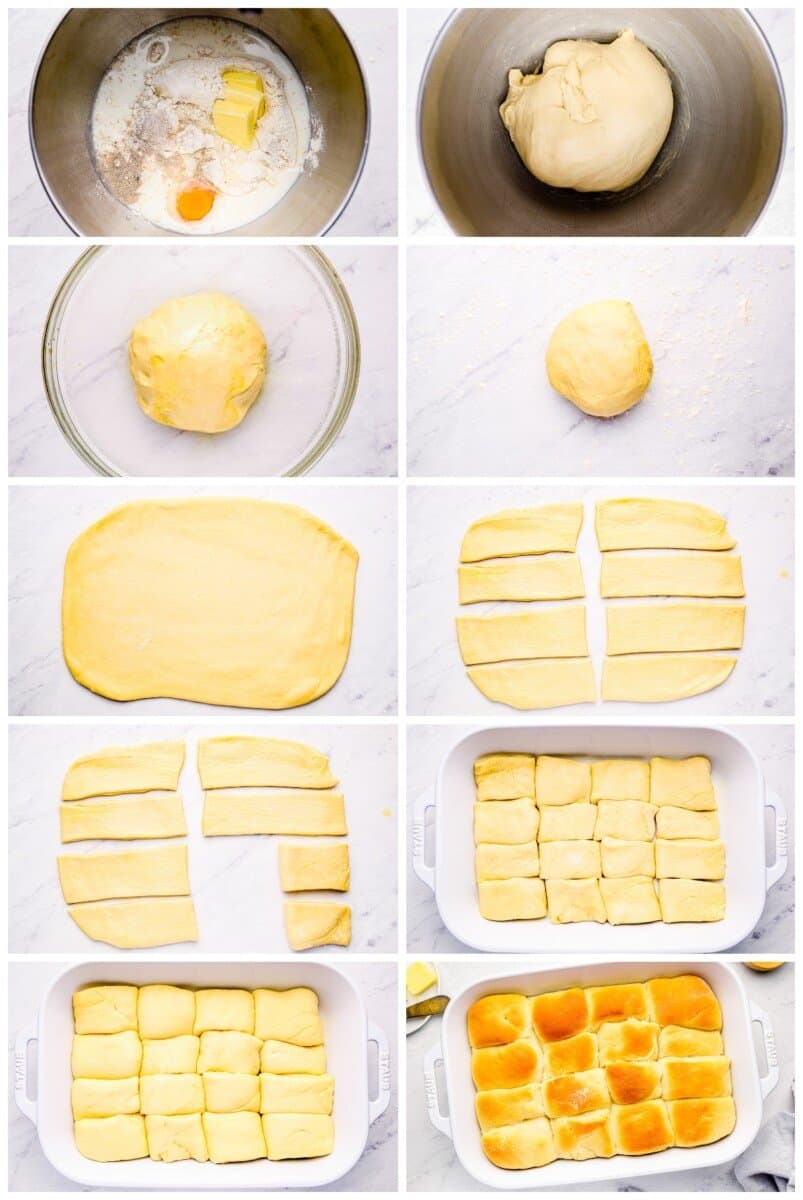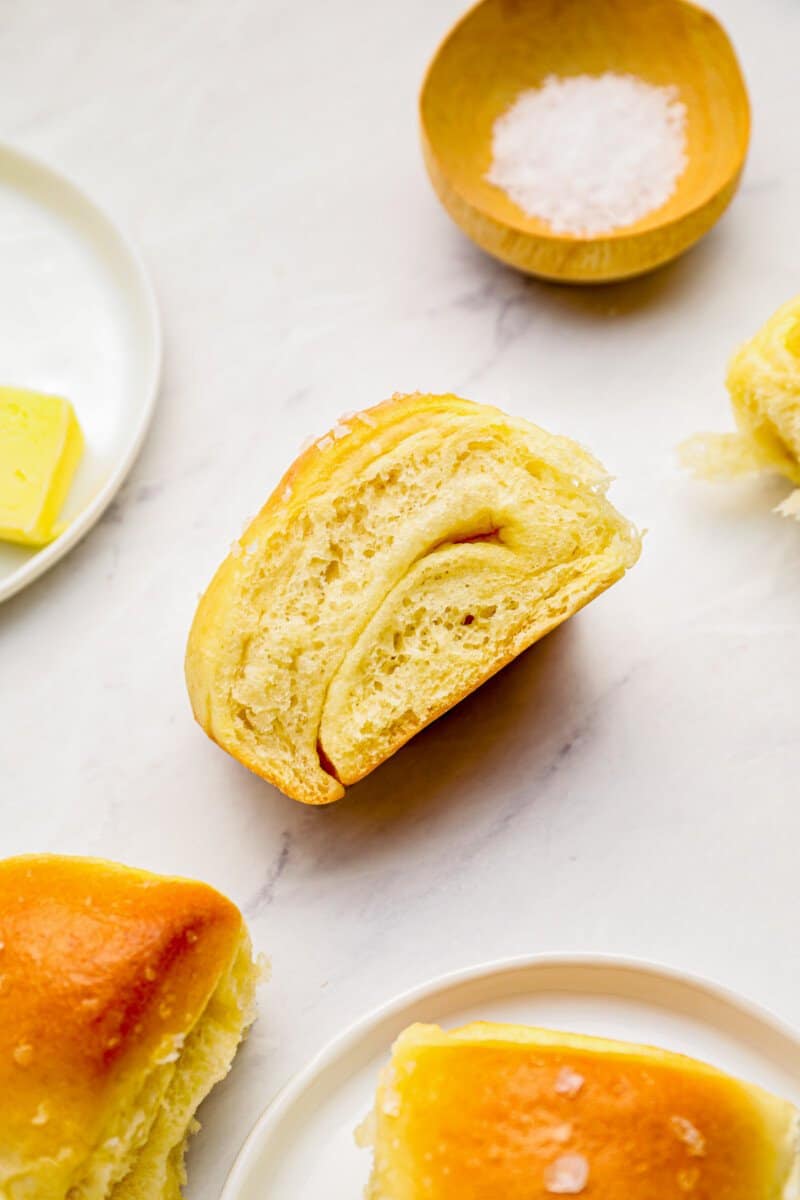 What are Parker House Rolls?
Parker House rolls are a classic dinner roll named after the Parker House Hotel (now the Omni Parker House) in Boston, where they were invented. They are characterized by their unique folded-over appearance.
Why are Parker House rolls folded over?
The classic Parker House rolls are shaped like a folded-over crescent moon. However, there are many variations. The story goes that a frustrated baker tossed a batch of unfinished rolls in the oven, and they were a hit! Now, the rolls are beloved for their flaky texture and the perfect pocket for butter, jam, or honey.
How can I make Parker House rolls special?
As you'll see in this recipe, you have the option to baste these rolls in honey butter to take them up a notch!
Why are my Parker House rolls dense?
Dense or heavy rolls are usually caused by not kneading the dough long enough. Be sure to knead the dough until it is smooth and elastic. If your dough is properly kneaded, it should slowly spring back when pressed with one finger. If it springs back too quickly, it is under-kneaded. If it does not spring back at all, it is over-kneaded. The same tips can be used to tell if the dough has been proofed enough. Too springy means under-proofed and not springy enough means over-proofed.
Serving Suggestions
These make for a super satisfying appetizer or side dish, they play well with a multitude of mains. Here's some favorites:
Perfect for sharing, these rolls brighten up any holiday table!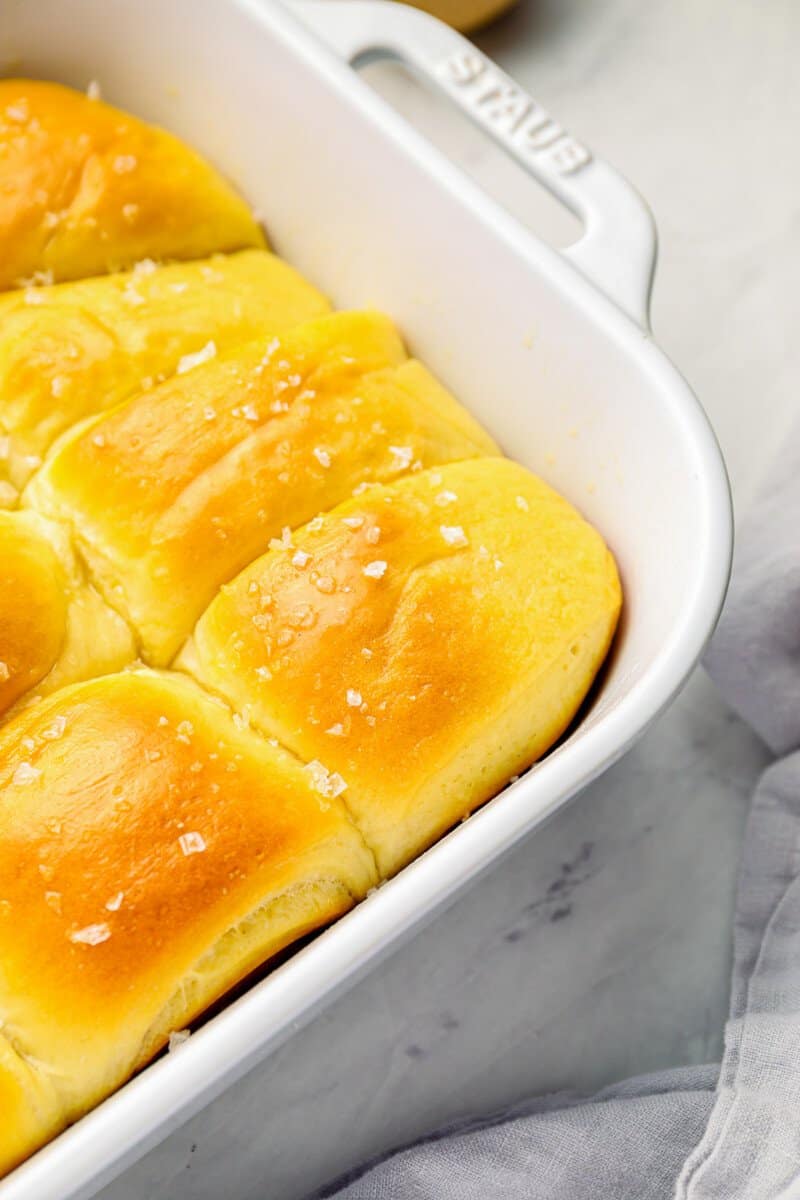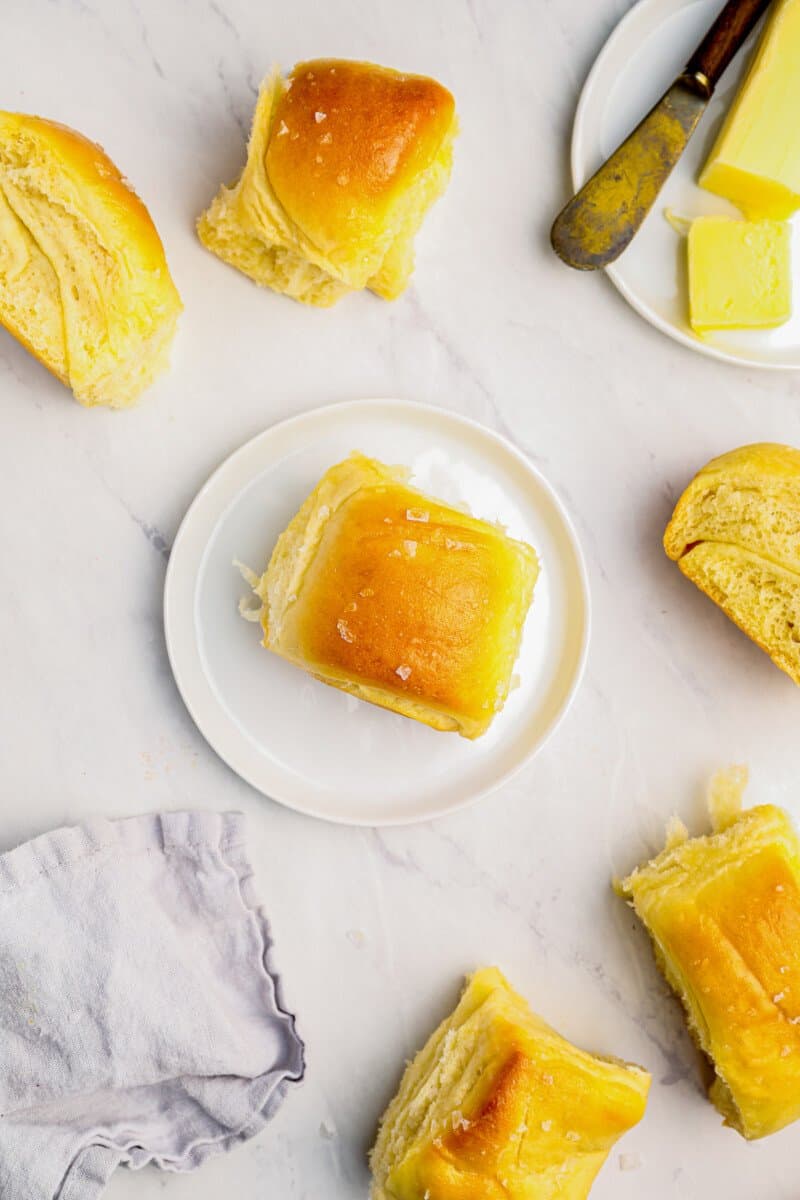 Make Ahead Instructions
To make Parker House rolls 1 day ahead, follow the recipe through shaping the dough. Once shaped, place the rolls in the pan you plan to bake them in and place them in the refrigerator until you are ready to bake them (up to 24 hours). They will slowly rise in the refrigerator. When you're ready to bake them, remove the rolls from the refrigerator 30 minutes prior to baking and preheat the oven while they come to room temperature. Bake as directed.
Storage Instructions
Store leftover Parker House rolls in an airtight container at room temperature for up to 3 days. Reheat for 15-30 seconds in the microwave.
Freezing Instructions
Shaped: Shape the rolls and place them on a baking sheet with space between them.  Freeze for 8-12 hours, then transfer to a Ziplock bag and store for up to 3 months. Thaw at room temperature for 3-5 hours, until risen. Bake as directed.
Risen: Let the rolls rise completely, then freeze in a Ziplock bag for up to 3 months. Thaw at room temperature until soft, about 2 hours. Bake as directed.
Fully Baked: Freeze fully-baked Parker House rolls in a Ziplock bag for up to 3 months. Thaw at room temperature for about 2 hours and reheat before serving.
No Stand Mixer?
No problem! To make the rolls by hand, stir the step 1 ingredients together in a large bowl until a dough starts to form. Transfer the dough to a floured surface and knead for 15 minutes or until the dough is no longer sticky. Proceed with step 2.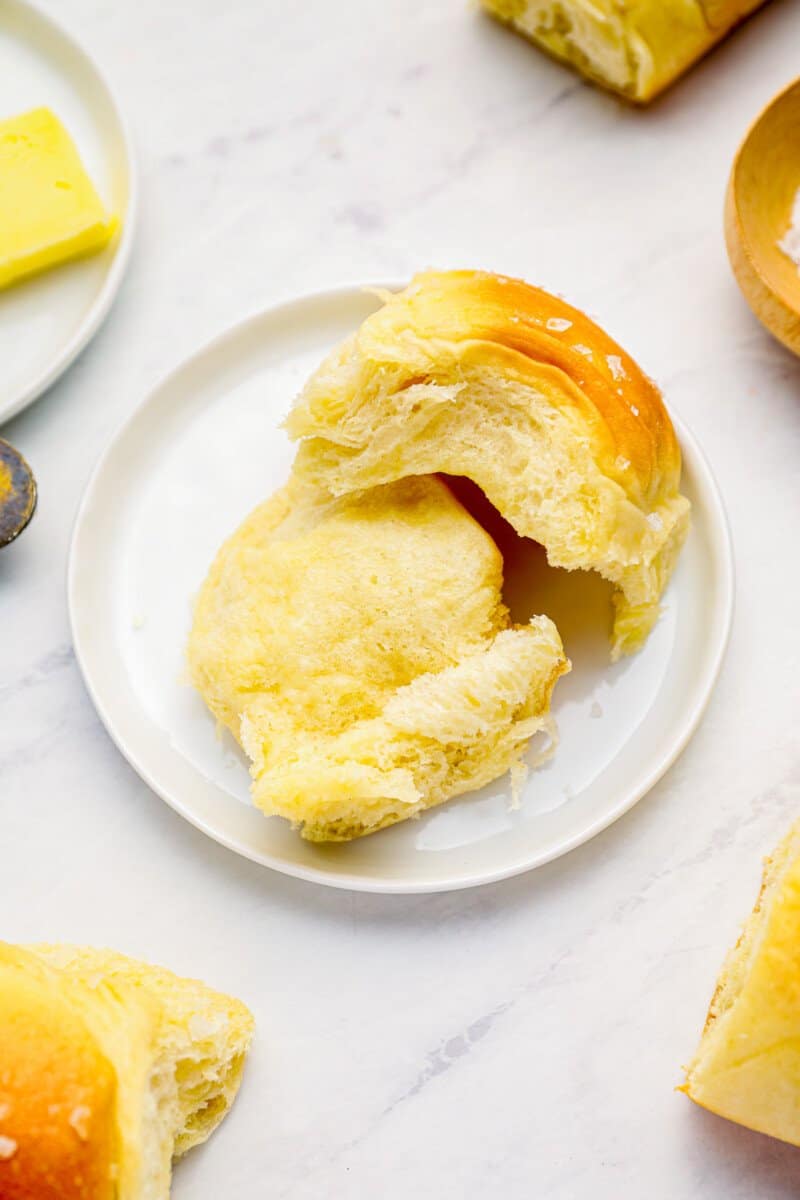 Baked to golden perfection, these easy bread rolls look as good as they taste! Super versatile, you can serve them up with breakfast or have them adorn a holiday table. Slather on some of my easy honey butter for a salty and sweet delight!
If you make this recipe be sure to upload a photo in the comment section below or leave a rating. Enjoy!


[ad_2]

Source link