Easy Cheesy Weeknight Pasta Bake {Make-Ahead and Freezable}
[ad_1]

This easy weeknight pasta bake is a kid-friendly family favorite! Quick and simple, it can be made ahead of time and it makes a great freezer meal!
Bring on the easy weeknight dinners! Especially the ones that please the entire family.
No grumbling about dinner? Hello. Sign me up. This cheesy pasta bake checks all the boxes. And it makes a stellar make-ahead meal.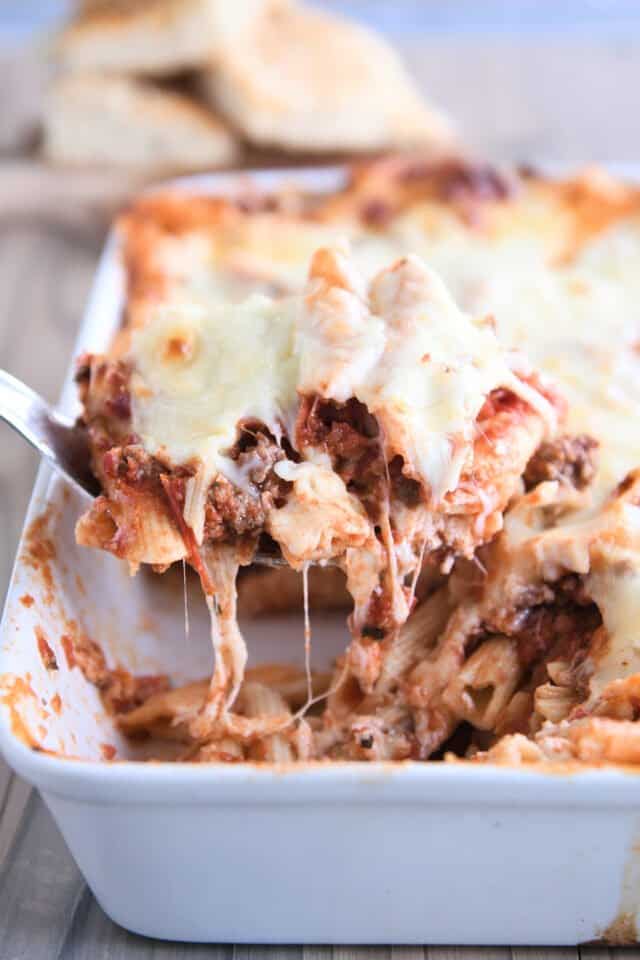 Sauce, Pasta and Cheese
To maximize your time, while the pasta cooks (just until al dente!), start on the quick, homemade meat sauce.
Once the tomatoes are added to the cooked ground beef, the sauce only needs a few minutes of simmering action.
It's amazing how simple ingredients can still promise depth of flavor!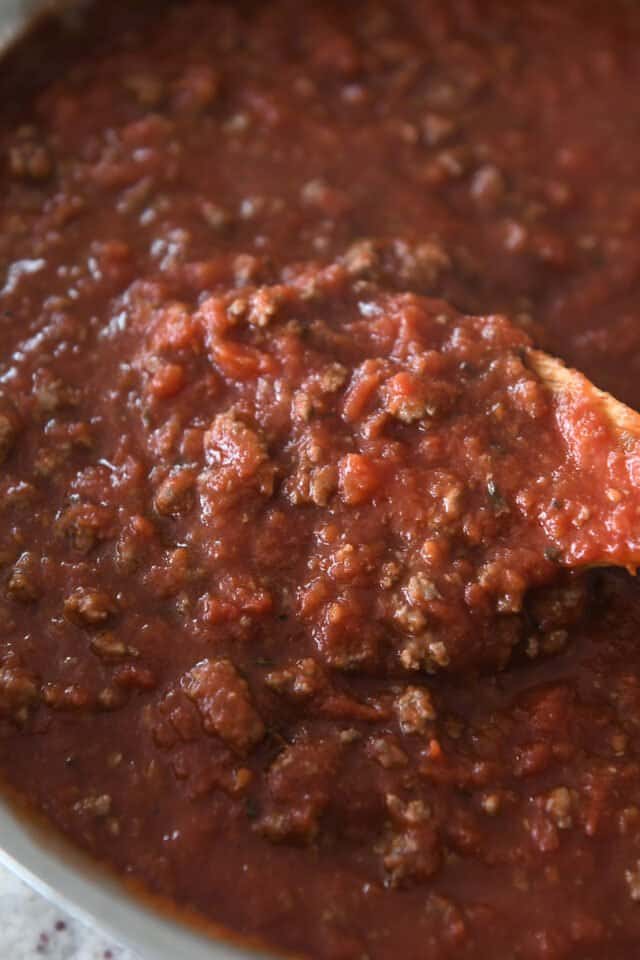 Toss the cooked and drained noodles with the sauce.
And then stir together the ricotta and parmesan cheese.
Pro Tip: if you don't have ricotta and/or don't like the sometimes grainy texture of ricotta, you can blend up cottage cheese to sub in for the ricotta cheese.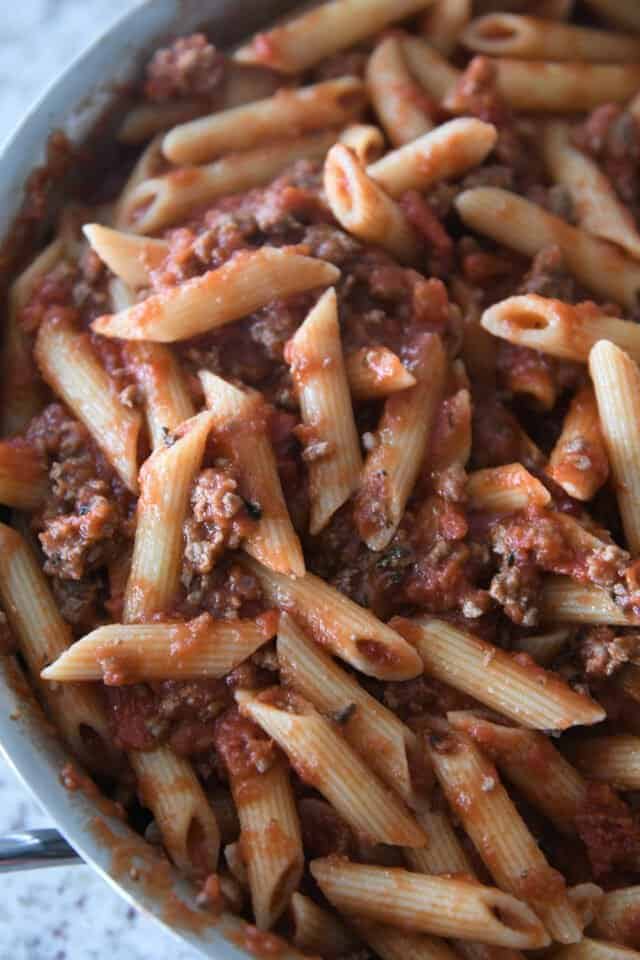 Assembling the Pasta Bake
Pending a totally unanticipated distraction (kids? pets? an impromptu nap in between layers?), this assembling step shouldn't take longer than a few minutes.
Half the noodles and sauce
All of the ricotta + parm
Half of the mozzarella cheese
Rest of the noodles
Mozzarella cheese to finish
Make-Ahead Freezer Meal
After assembly is complete, you have a couple of options.
Bake immediately
Cover and refrigerate for up to 24 hours
Cover with a double layer of greased foil and freeze
The pasta can be baked directly from the refrigerator or from the freezer. I've included notes in the recipe below with baking instructions for those options.
It makes a fantastic take-in meal as a hot and bubbling eat-it-now pasta bake OR as a freezer meal for the recipient to bake and eat later.
It may not win any awards for Fanciest Dinner on the Planet, but it wins all the awards in my book for a meal that makes the whole family happy.
Also: hi, fancy pants dinners are highly overrated when you're a real person with a real family living in a real world on an average Tuesday night when life is, trust me, anything but glamorous. I count it a success if most of us can find matching socks 56% of the time. 😉
I'm a sucker for any situation that involves extra cheesy pasta, and this easy weeknight pasta bake is 100% fantastic! Hope you love it.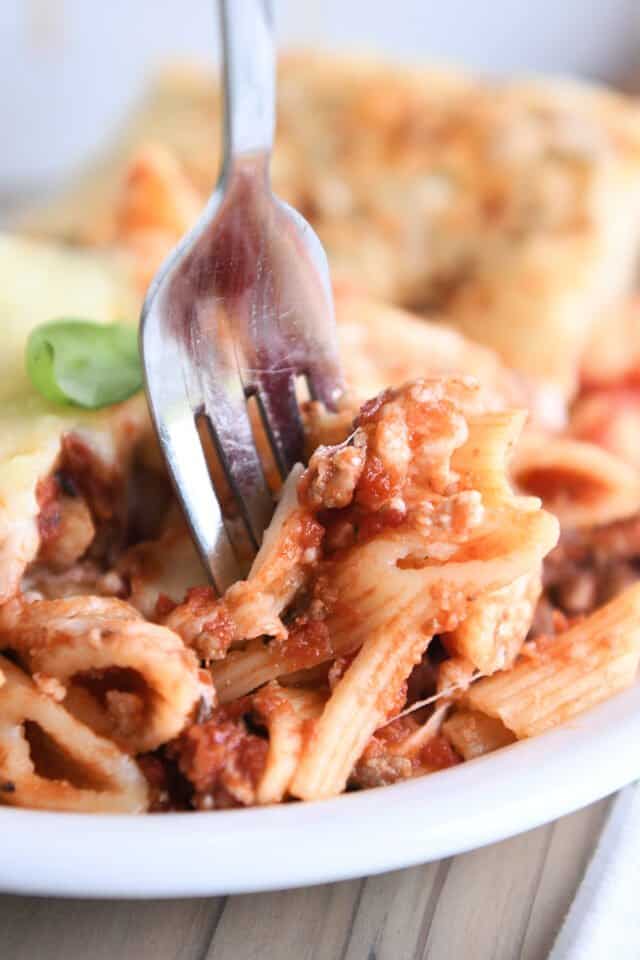 One Year Ago: Butterscotch Rice Krispie Treats
Two Years Ago: The Best Homemade Glazed Donuts
Three Years Ago: Mel's Buddha Bowls With Super Tasty Peanut Sauce 
Four Years Ago: Double Chocolate Salted Caramel Muffins 
Five Years Ago: The Best Ground Beef or Turkey Tacos 20-Minute Meal 
Six Years Ago: Amazing Cinnamon Chip Scones Best Basic Scone Recipe 
Seven Years Ago: Mexican Chopped Salad with Simple Honey Vinaigrette
Eight Years Ago: Oatmeal Peanut Butter Chocolate Chip Bars 
Nine Years Ago: The Best Flaky Buttermilk Biscuits
Ten Years Ago: Crab and Goat Cheese Ravioli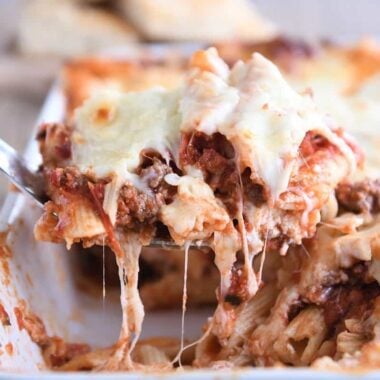 Easy Cheesy Weeknight Pasta Bake
16

ounces

penne pasta (see note)

1

pound

ground beef or ground turkey

½

cup

chopped onion or 1 teaspoon onion powder

1

teaspoon

salt

¼

teaspoon

black pepper

28-ounce

can

crushed tomatoes

8-ounce

can

tomato sauce

1

teaspoon

brown sugar

1

teaspoon

dried basil

½

teaspoon

dried oregano

½

teaspoon

salt

¼

teaspoon

garlic powder

pinch

black pepper

2

cups

ricotta cheese (see note)

½

cup

shredded Parmesan cheese

3

cups

shredded mozzarella cheese
Preheat the oven to 375 degrees F. Lightly grease a 9X13-inch baking dish. Set aside.

Bring a large pot of lightly salted water to a boil and cook the pasta until al dente, according to package instructions. Drain and set aside.

While the pasta is cooking, cook the ground beef, onion, 1 teaspoon salt and pepper, in a skillet set over medium heat, breaking the meat into small pieces as it cooks. Cook until the meat is no longer pink. Off the heat, drain the grease.

Return the pot to medium heat and add the crushed tomatoes, tomato sauce, brown sugar, basil, oregano, garlic powder, and 1/2 teaspoon salt and pepper. Bring to a gentle simmer and cook for 5-7 minutes. Season to taste with additional salt and pepper, if needed.

Remove the skillet from the heat and add the cooked and drained noodles and stir to coat evenly with the sauce (if the skillet is too small, combine the noodles in sauce in the now-empty pasta pot).

In a small bowl, stir together the ricotta cheese and Parmesan cheese.

To assemble, spread half of the noodles in the bottom of the prepared pan. Dollop the ricotta mixture over the top and spread into a mostly even layer. Sprinkle with half of the mozzarella cheese. Layer the remaining noodles over the top followed by the rest of the mozzarella cheese.

Place the pasta bake on a foil-lined half sheet pan to catch any spillovers and bake for 30-35 minutes until bubbling and heated through. Let rest for 10 minutes before serving.
Pasta: any tube-shaped pasta should sub well for the penne. 
Sauce: you could easily sub in a 32-ounce jar of your favorite marinara sauce in place of the crushed tomatoes, tomato sauce, and seasonings.
Ricotta Substitution: a lot of times if I don't have ricotta, I blend cottage cheese and it works brilliantly well as a sub for the ricotta (and it has a creamier, less grainy texture).
Make-Ahead/Freezable: this pasta bake can be made ahead of time, assembled, covered with foil and refrigerated for up to 24 hours before baking. Add 15-20 minutes onto the baking time if baking straight from the refrigerator. To freeze, assemble the pasta bake. Cover with a double layer of greased aluminum foil (so the cheese doesn't stick). Bake, covered, straight from the freezer at 350 degrees F. for 90 minutes. Uncover and bake another 30-45 minutes until hot and bubbling.
Serving: 1 serving, Calories: 1181kcal, Carbohydrates: 190g, Protein: 65g, Fat: 29g, Saturated Fat: 12g, Cholesterol: 88mg, Sodium: 6028mg, Fiber: 39g, Sugar: 92g
Follow @MelsKitchenCafe on Instagram and show me the recipes you are making from my blog using the hashtag #melskitchencafe. I love seeing all the goodness you are whipping up in your kitchens!
Disclaimer: I am a participant in the Amazon Services LLC Associates Program, an affiliate advertising program designed to provide a means for me to earn fees by linking to Amazon.com and affiliated sites. As an Amazon Associate I earn from qualifying purchases.


[ad_2]

Source link