Arby's Tzatziki Sauce (Gyro Sauce)
[ad_1]

Arby's Tzatziki Sauce is creamy, cool, and perfect for gyros. You can use it as a dipping sauce for vegetables, naan, and pita bread. Homemade tzatziki sauce is great for Greek meatballs, kabobs, veggie trays, mezze appetizer platters, and charcuterie boards.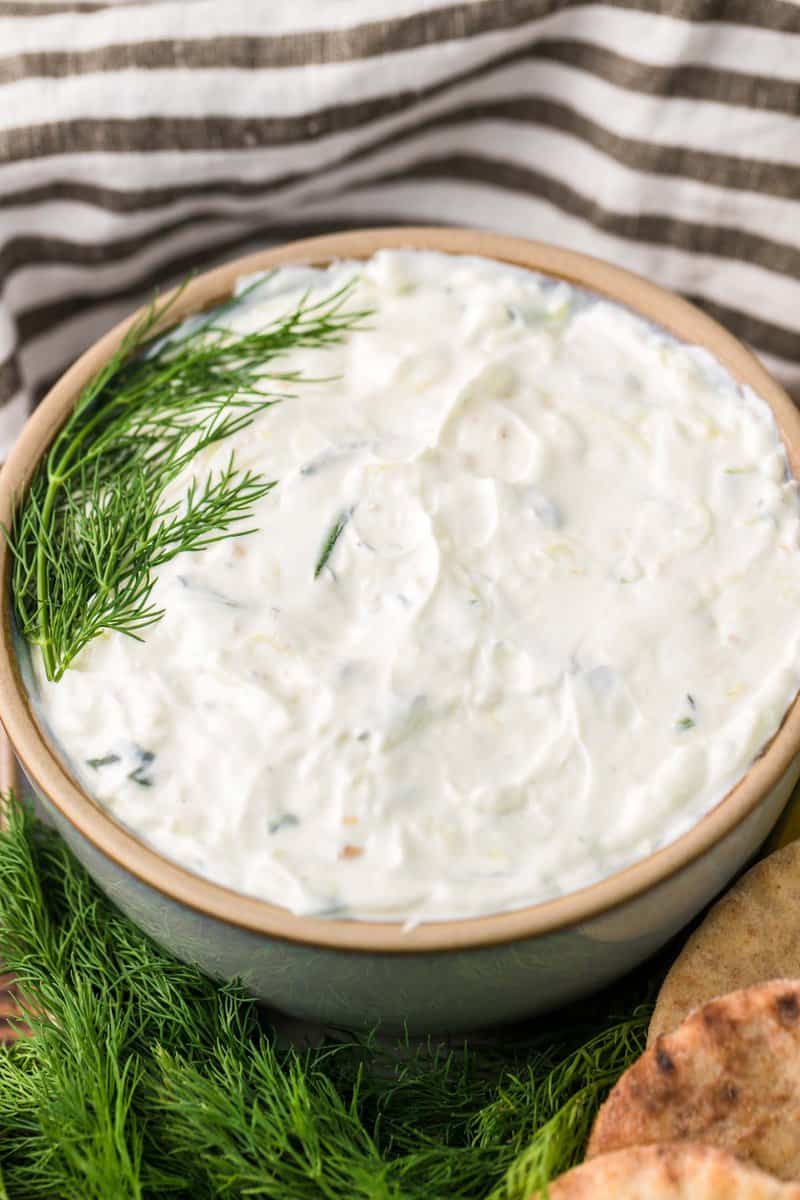 This post contains affiliate links. As an Amazon Associate, I earn from qualifying purchases.
Why This Is the Copycat Arby's Tzatziki Sauce You Must Try 
Believe it or not, Arby's has not one, not two, but three different gyros on its menu. Customers can choose Arby's signature classic roast beef, chicken, or lamb with shredded lettuce, sliced red onion, tomatoes, and tzatziki sauce wrapped in fresh pita bread. 
While the Arby's isn't known for Greek cuisine, guests have come to love the chain's gyros because they taste amazing and are different enough from the standard fast-food restaurant items to keep things interesting. 
If you can't get to an Arby's, making a roast beef gyro at home isn't too different. You can buy most of the ingredients in the supermarket, but the one exception is Arby's gyro sauce since it has its own unique twist.
Read the definitive guide to Arby's Sauces.
What Does Arby's Tzatziki Sauce Taste Like? 
Typically, the main ingredients in tzatziki sauce are Greek yogurt, cucumbers, lemon juice, minced garlic, and fresh dill. But the tzatziki sauce at Arby's has one little difference that completely shakes things up! Arby's leaves out the Greek yogurt and uses sour cream instead. 
Switching to sour cream gives this recipe much more zip than traditional versions. To compensate, the amount of minced garlic and lemon juice in this recipe is less than in others.
At the end of the day, the sauce is well-balanced, the cooling crunch of the cucumbers and the vibrant herbal character of the dill preventing the sauce from becoming too overpowering.
Ingredients For Tzatziki Sauce with Sour Cream
To make Greek tzatziki sauce, you'll need:
Sour cream 
Cucumbers
Salt 
Lemon juice
Garlic 
Extra virgin olive oil 
Dill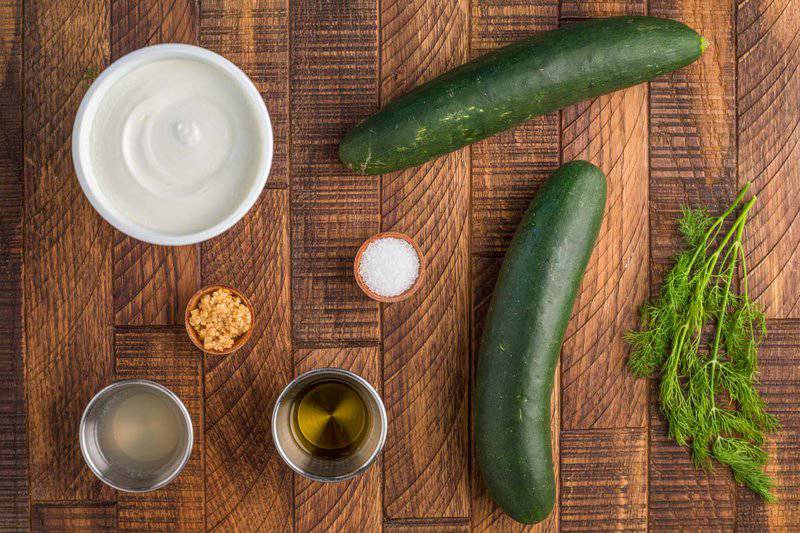 How To Make Greek Tzatziki Sauce
To make Arby's gyro sauce:
Drape two layers of cheesecloth over a mixing bowl.
Peel a cucumber and cut it horizontally in half.
Scrape out the seeds with a spoon.
Use the coarse side of a box or hand grater to shred the cucumber into the cheesecloth. 
Sprinkle a teaspoon of kosher salt on top of the shredded cucumber and mix with your fingertips. Wait for about 10 minutes.
While waiting, mince the garlic and chop the fresh dill. Set aside.
After 10 minutes, gather together the corners of the cheesecloth. Twist the cheesecloth and squeeze as much liquid as possible out of the cucumbers. 
Dump and rinse out the mixing bowl. 
Place the dry, shredded cucumbers into the mixing bowl. Add the remaining ingredients. Stir well to blend.
Cover the bowl with plastic wrap and put it in the fridge for at least an hour before serving. Leaving the tzatziki sauce in the fridge overnight will give you much better flavor.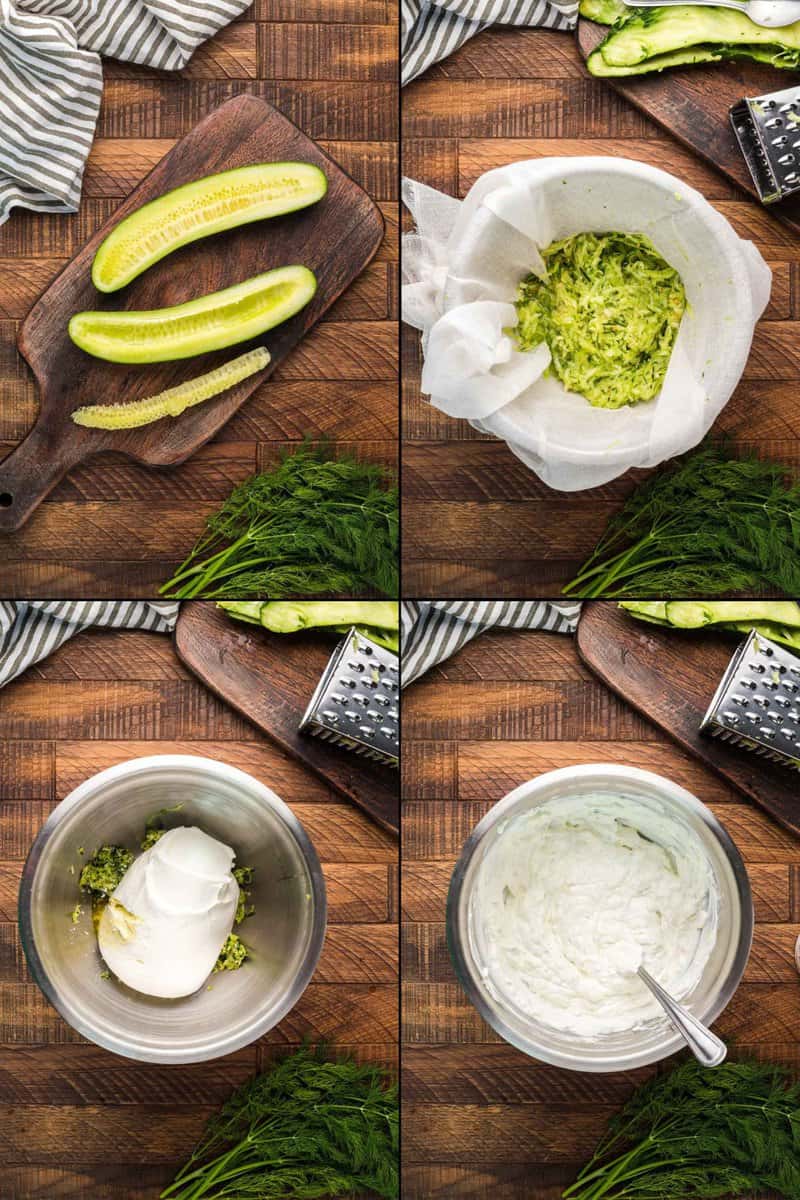 What Should You Serve With Tzatziki Sauce
This quick tzatziki sauce is perfect for any gryo or kebob sandwich. Try it as a dressing for a simple salad or as a sauce for cold roast beef. It is also great on grilled, baked, or fried eggplant.
Serve tzatziki as a dip with fresh vegetables, naan, flatbread, pita bread or pita chips. Have it on a Greeze mezze platter or charcuterie board.
How Long Does This Easy Tzatziki Sauce Last? 
Greek tzatziki sauce will be at its best for about three days, but you can enjoy it for up to a week. The longer the sauce sits in the fridge, the stronger the garlic and dill flavors will get.
How To Store Leftover Tzatziki Sauce
Store the sauce in the refrigerator inside an airtight container. 
Can You Freeze Tzatziki Sauce? 
Keeping Arby's gyro sauce in the freezer is probably not a good idea. The sour cream will develop a grainy texture, and the cucumbers will lose any remaining crunchiness. Since Arby's gyro sauce is so easy to make, it is not worth the effort to freeze.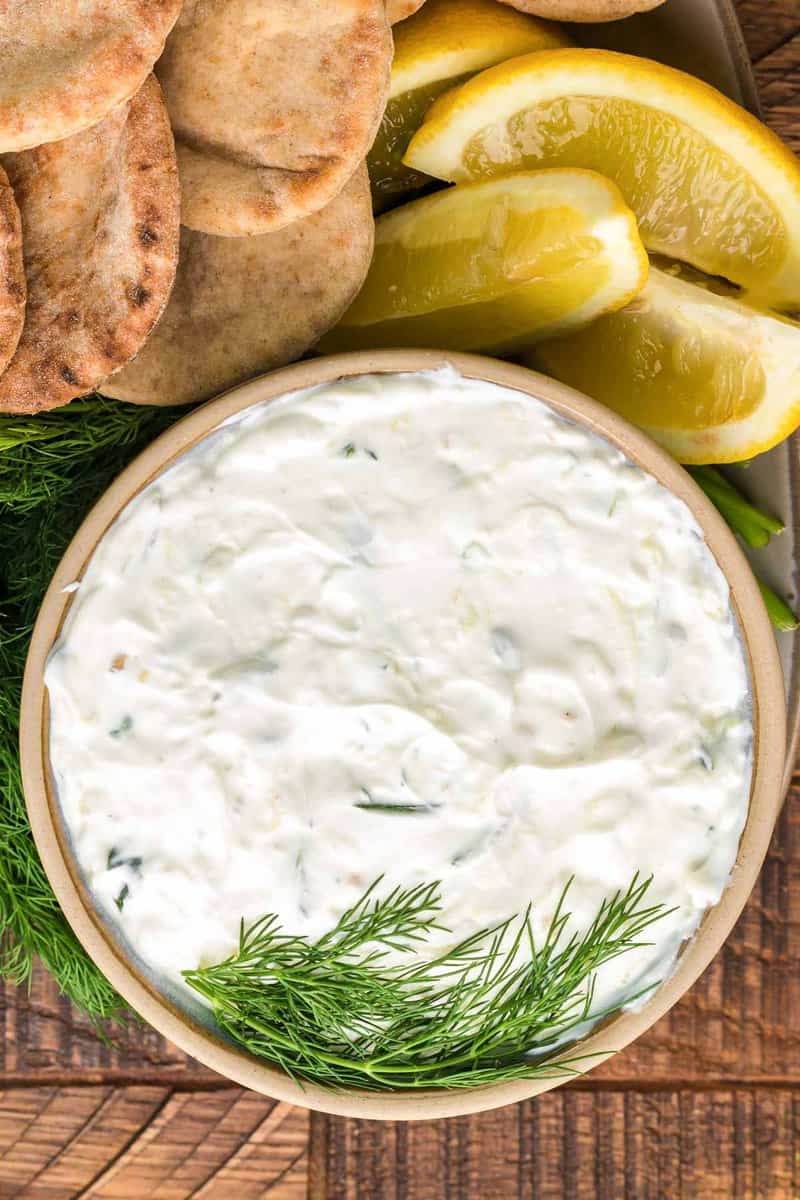 Love Arby's? Try These Copycat Recipes!
Favorite Restaurant Sauce Recipes
Check out more of my easy sauce recipes and the best fast food recipes here on CopyKat!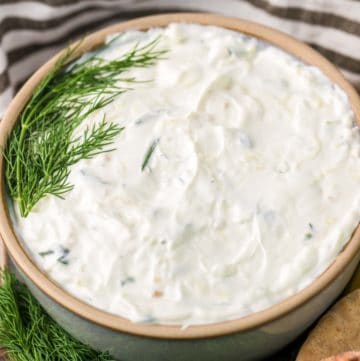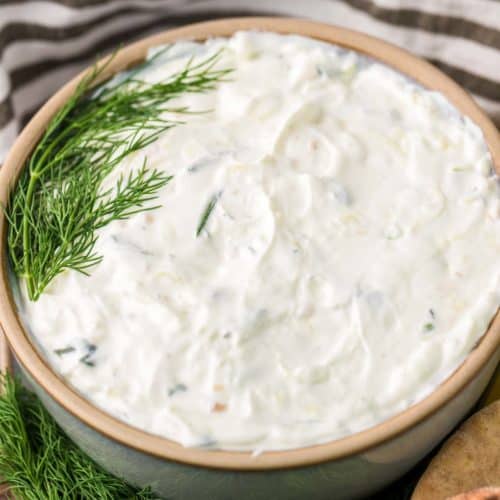 Arby's Tzatziki Sauce
You can make Arby's gyro sauce at home with this easy copycat recipe.
Print
Pin
Rate
Add to Collection Go to Collections
Servings: 8
Calories: 124kcal
Ingredients
16

ounces

sour cream

2

medium

cucumbers

2

teaspoons

salt

plus more to taste

1

tablespoon

lemon juice

2

teaspoons

minced garlic

1

teaspoon

extra virgin olive oil

2

tablespoons

fresh dill

chopped
Instructions
Line a medium mixing bowl with cheesecloth with 3 to 4 inches of excess cloth hanging over the sides.

Slice the cucumber in half lengthwise and remove the seeds using a spoon.

Grate the cucumber into the mixing bowl.

Add salt and stir. Let rest for 10 minutes.

Gather cheesecloth over the cucumber into the center. Twist tightly, then squeeze as much liquid out as possible.

Pour the liquid out of the bowl and wipe it down.

Add the cucumber, sour cream, lemon juice, and salt to taste. Whisk well.

Cover and refrigerate for at least 1 hour before serving. For best flavor, refrigerate overnight.

Garnish with dill and enjoy!
Nutrition
Calories: 124kcal | Carbohydrates: 4g | Protein: 2g | Fat: 12g | Saturated Fat: 6g | Polyunsaturated Fat: 1g | Monounsaturated Fat: 3g | Cholesterol: 33mg | Sodium: 600mg | Potassium: 145mg | Fiber: 1g | Sugar: 3g | Vitamin A: 397IU | Vitamin C: 3mg | Calcium: 66mg | Iron: 1mg
[ad_2]

Source link