Spiced Ginger Lime Chicken Tenders with Coconut Rice –
[ad_1]

These simple and delicious ginger lime chicken tenders are exploding with flavor! Paired with the coconut rice and you have a perfect meal.
You can consider this post a two-for-one deal! Two recipes, one amazing meal.
The coconut rice soaks up all the outrageous flavors of the simple chicken tenders. It's a fabulous combination.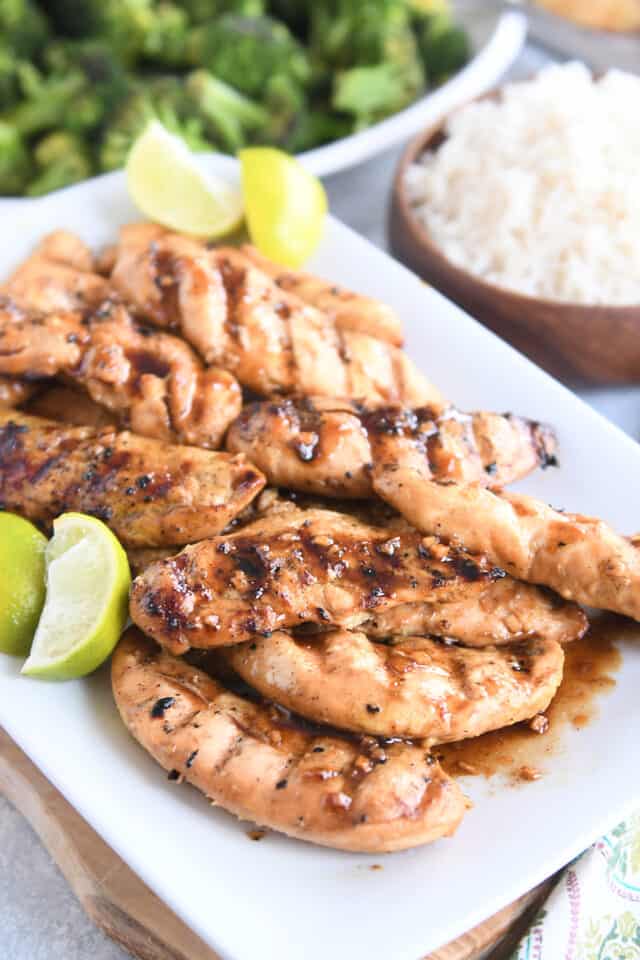 Why Chicken Tenders?
While you can use any cut of chicken in this recipe (chicken thighs or chicken breasts), I love chicken tenders.
They cook ultra-fast. And just like their name implies, they are tender and so juicy.
The marinade for these spiced ginger lime chicken tenders includes:
soy sauce (I always use low-sodium)
brown sugar
fresh lime juice
a bit of oil (olive oil or sesame oil for awesome flavor)
fresh ginger (ginger paste, frozen ginger cubes, or grated fresh ginger)
fresh garlic
spices of your choice (curry powder, garam masala, cumin, coriander)
Unlike sturdier chicken thighs that can marinade for longer periods of time, the chicken tenders only need a few hours of marinading time.
If they sit in the marinade too long, they can develop a kind of mushy texture.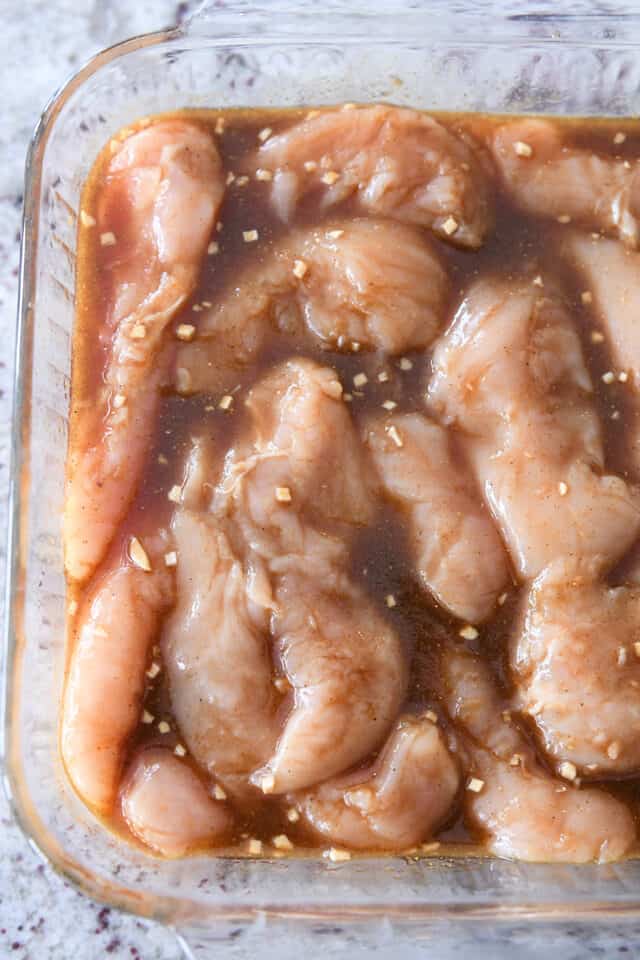 How to Cook the Chicken Tenders
I prefer grilling the chicken, but you could also use an air fryer or the broil setting in the oven.
They cook quickly! Just a few minutes on each side and they'll be done.
Once they are finished cooking, I pile them in a baking dish or a tray, tent with foil, and let them hang out for a few minutes. The juices and marinade will accumulate in the bottom of the dish, and it makes a great makeshift sauce to drizzle over the chicken and rice when serving.
See the note in the recipe about making extra marinade if you want things extra saucy.
How to Make Coconut Rice
This easy coconut rice is a dream. If you've never had coconut rice, you are in for a treat. Coconut rice is simply rice that is cooked in water PLUS canned coconut milk.
It is buttery, salty, and just very lightly sweet, and it pairs perfectly with Asian- or Indian-style dishes.
The Key to Perfect Coconut Rice
Coconut rice can easily turn out gummy and gloopy – but one simple step helps prevent that:
Rinsing the rice.
I never rinse rice when I make it the "every day way" (even though experts online say I should 😬 ). But I always rinse if I'm making coconut rice; it makes a huge difference.
Rinsing white rice removes the starch which allows the rice to separate into pieces while cooking vs clumping together.
I don't spend a lot of time on this step. I rinse quickly in a colander, agitating the rice with my fingers and kind of tossing it around. I don't wait for the water to necessarily run clear, I just rinse for a good solid minute and call it a day. Drain it well, and it's ready to cook.
Stand Alone Recipes
Both the spiced ginger lime chicken tenders recipe and the coconut rice recipe can stand alone.
They don't have to be made together for the same meal. Each is delicious to stand on it's own (and the coconut rice is a beautiful back-pocket recipe to use for a variety of meals).
But together, the flavorful chicken and coconut rice make a stellar combo. Throw in bright 5-minute skillet broccoli, and you basically have the meal of my dreams.
One Year Ago: Easy Chicken Enchilada Casserole
Two Years Ago: The Best Banana Muffins
Three Years Ago: Big Fat Double Dark Chocolate Cookies Almost Levain Bakery Knockoff
Four Years Ago: Mini Ham and Cheese Quiches 
Five Years Ago: Easy Pull-Apart Italian Asiago Bubble Bread
Six Years Ago: Whole Grain Peanut Butter and Honey Banana Muffins
Seven Years Ago: Foolproof Cream Puffs 
Eight Years Ago: Samoa Cupcakes 
Nine Years Ago: Carrot Cake Cheesecake 
Ten Years Ago: Red Brie Pasta Sauce 
Spiced Ginger Lime Chicken Tenders with Coconut Rice
Marinade + Chicken:
⅓

cup

low-sodium soy sauce (see note)

¼

cup

packed light or dark brown sugar

¼

cup

fresh lime juice

2

tablespoons

olive oil or toasted sesame oil

1

tablespoon

grated fresh ginger or ginger paste (see note)

4

cloves

garlic, finely minced (see note)

½

teaspoon

spices, like curry powder, garam masala, cumin, coriander (see note)

Pinch

red pepper flakes or cayenne pepper (optional)

2-3

pounds

chicken tenders
Coconut Rice:
2

cups

jasmine rice

1

can

(13.5 ounces) coconut milk

¾

cup

water

2

teaspoons

coarse, kosher salt (use about half for table salt)
For the chicken:
Whisk together all the marinade ingredients until smooth (see note below for extra marinade/sauce). Place the chicken tenders in a shallow dish or ziploc bag and add the marinade so the chicken is mostly covered, tossing once or twice to cover the chicken evenly.

Cover the dish/seal the bag and refrigerate for at least 2 hours and up to 8 hours.

Preheat a grill to medium-high. (You can also use an air fryer or oven set to broil.) Remove the chicken tenders from the marinade and cook 2-4 minutes on each side until cooked through (an instant read thermometer should register 165 degrees F at the thickest part of the chicken tender). Remove the chicken to a plate, cover, and let rest for 5-10 minutes.

Serve the chicken with the coconut rice (recipe below). Pour any accumulated juices over the chicken before serving.
For the coconut rice:
Place the jasmine rice in a colander and rinse under cool water for 1-2 minutes, agitating and lifting the rice with your fingers, until the water runs mostly clear (don't worry too much about this, just make sure it gets a good rinse). Drain well.

Place the rinsed rice in a pot and add the coconut milk, 3/4 cup water, and salt. Bring the rice to a thorough simmer (should be simmering across the entire surface, not just the edges).

Give a quick stir to make sure rice isn't sticking to the bottom. Reduce the heat to low and cook for 18 minutes. DON'T REMOVE THE LID!

Remove the pot from the heat and let sit, covered, for 10 minutes. Fluff with a fork or spoon and serve with the chicken tenders.
Soy Sauce: I only keep low-sodium soy sauce around so I haven't tried this recipe with regular sodium soy sauce. I'm guessing it will work fine – obviously it'll have a bit more salty kick to it.
Ginger: Fresh ginger or ginger paste work best in this recipe (rather than ginger powder). The frozen cubes of ginger (I've seen them at Trader Joe's) will probably work as well, if thawed. Working with fresh ginger: I buy large knobs of fresh ginger, cut them into 1/2- or 1-inch pieces and keep them in a ziploc bag in the freezer. They can be grated into recipes, like this one, straight from the freezer (no need to peel).
Spices: this recipe is very adaptable to spices you might have on hand. You need 1/2 teaspoon TOTAL spices (not 1/2 teaspoon of all the spice options). It's delicious with curry powder, garam masala, cumin, coriander, or a combination. Obviously the flavor will change depending on what spices are used; make sure you like the flavor profile of the spices/blends you are using.
Extra Sauce: if you want extra sauce to drizzle over the chicken and rice, 1 1/2 or double the marinade ingredients and reserve some of the marinade before pouring the rest over the chicken. Simmer the reserved marinade in a small pan on the stovetop for several minutes before serving (if you want the sauce thicker, stir 1 tablespoon cornstarch to the marinade before simmering). 
Coconut Milk: I've made the rice with both full fat coconut milk and light coconut milk. Both work fine, in my opinion. The full fat coconut milk gives the rice a richer, slightly sweeter taste. 
Sugar in Rice: I don't add sugar to my coconut rice, because I don't like it very sweet, but if you prefer a sweeter rice, add 1-3 teaspoons sugar before cooking.
Follow @MelsKitchenCafe on Instagram and show me the recipes you are making from my blog using the hashtag #melskitchencafe. I love seeing all the goodness you are whipping up in your kitchens!
Disclaimer: I am a participant in the Amazon Services LLC Associates Program, an affiliate advertising program designed to provide a means for me to earn fees by linking to Amazon.com and affiliated sites. As an Amazon Associate I earn from qualifying purchases.


[ad_2]

Source link