Easy No-Knead Sourdough Peasant Bread
[ad_1]

This easy no-knead sourdough peasant bread is soft, fluffy, and doesn't need any long rising times. It works with either fed or discard sourdough starter!
This might be the easiest sourdough bread you'll ever make! And it's absolutely amazing.
Since the recipe calls for either fed or discard sourdough starter, you don't need to plan in advance, which means you can have a piping hot loaf of bread fresh out of the oven in just an hour or two.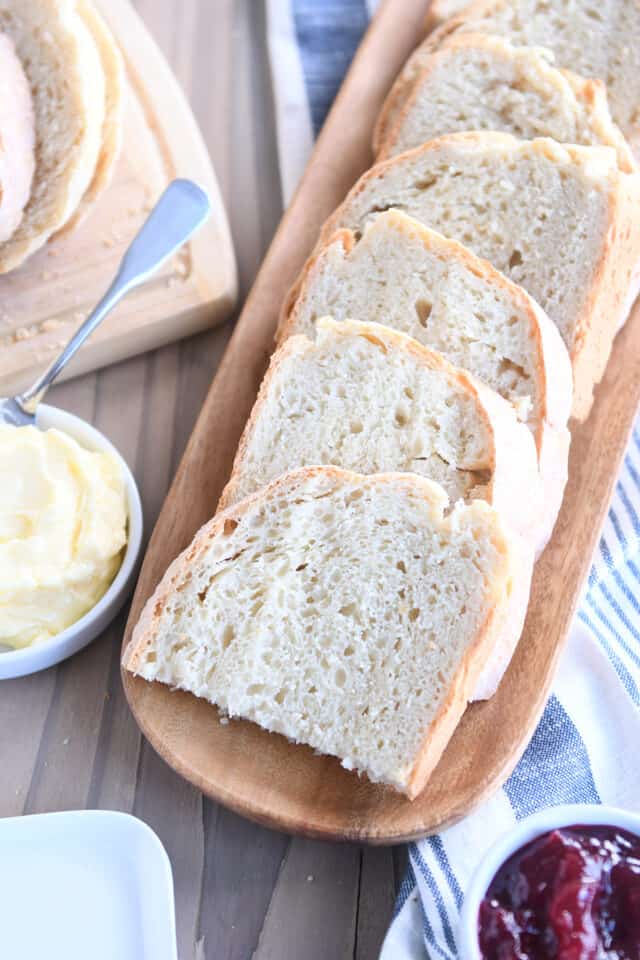 A Very Popular Recipe
Based on the intense popularity of this easy peasant bread recipe, it was only a matter of time before I hit you with a sourdough version.
I know sourdough might sound intimidating (and even a bit annoying since it seems to be so in-your-face trendy lately) to some of you. I get it! But keeping a sourdough starter doesn't have to be time intensive, and you don't have to bake artisan sourdough bread with the ornate carving of a tree slashed on top every day (or ever!).
I personally subscribe to the Lazy Girl sourdough method. And it has brought a lot of peace and good carbs to my life.
Thanks to recipes like today's easy sourdough peasant bread and these sourdough pumpkin muffins, I can bear my testimony that it is 100% worth keeping a sourdough starter in the depths of the refrigerator.
*I also have a few other easy sourdough discard recipes up my sleeve to share with you in the next little while, and I CANNOT WAIT THEY ARE SO AMAZING.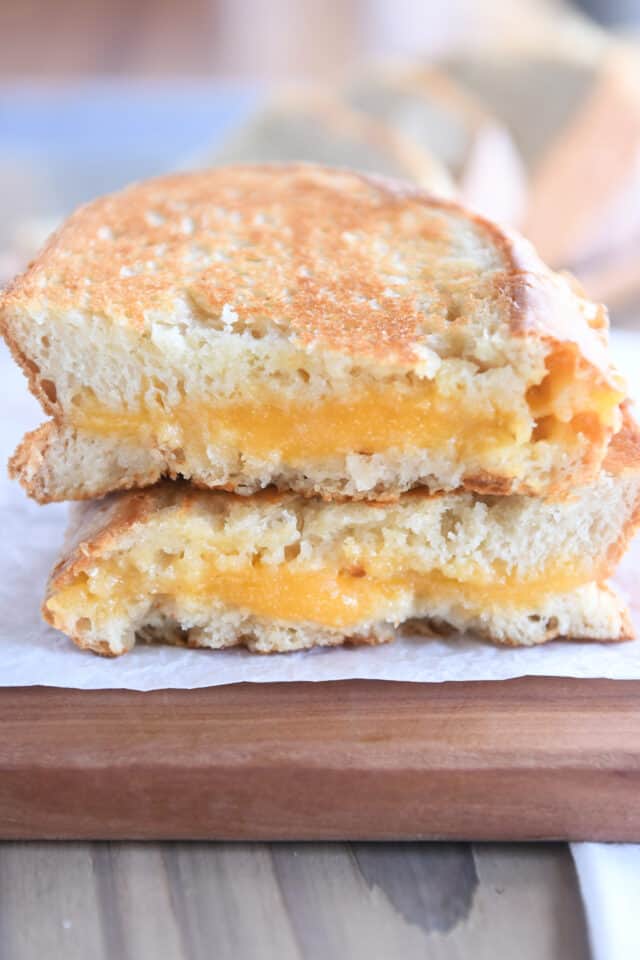 Also, can we please take a moment of silence to acknowledge that this easy sourdough peasant bread might possibly make the best grilled cheese in the history of ever?? That reason alone should get you hustling to whip up this bread.
Sourdough Starter
This recipe calls for either sourdough discard (you can use it straight out of the refrigerator) or fed sourdough starter.
Not all sourdough starters have the same feeding ratio. Because of that, your sourdough starter may be thicker or thinner than mine. I tested this recipe using my sourdough starter that I feed with a 1:1:1 ratio (by weight).
If your sourdough starter is thicker than mine (pictured below), you may need to add more water to the recipe. If your sourdough starter is thinner, cut the water in the recipe by 1/2 cup and add more only if needed.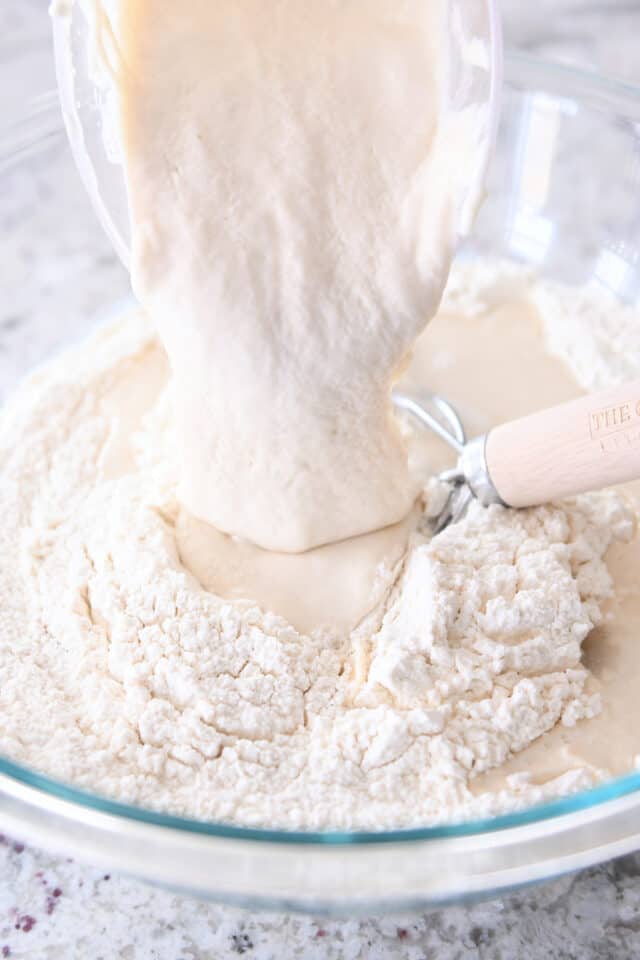 A Wet and Shaggy Dough
The dough for this sourdough peasant bread comes together fast, and because the dough is much wetter than traditional bread dough, it can easily be mixed by hand.
Mix until all the dry ingredients are incorporated and the dough forms a very rough ball in the bottom of the bowl.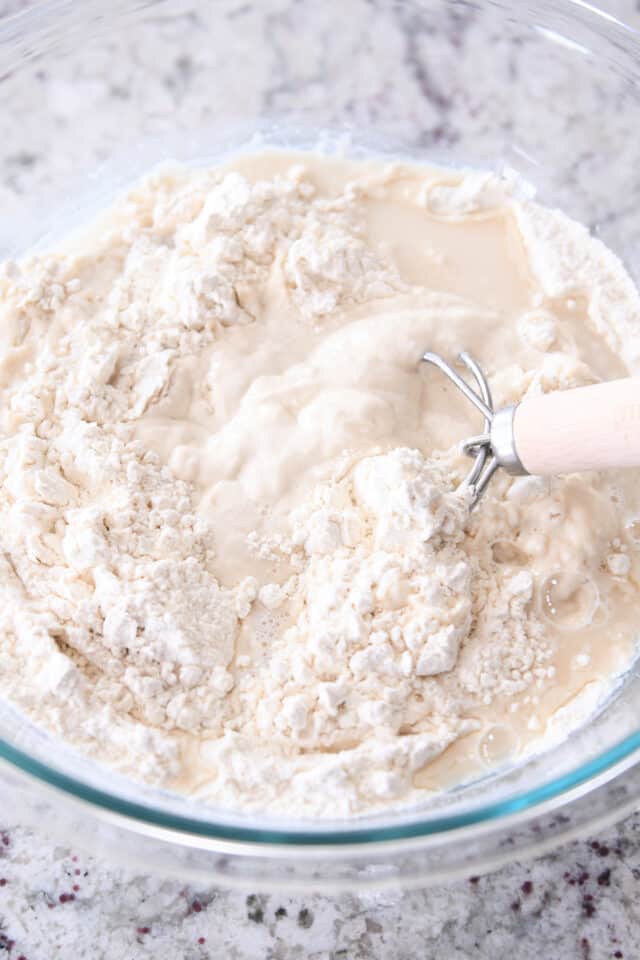 Let the dough rise right in the bowl until noticeably puffy and mostly doubled. Depending on the warmth of your kitchen, this will take about 1 to 1 1/2 hours.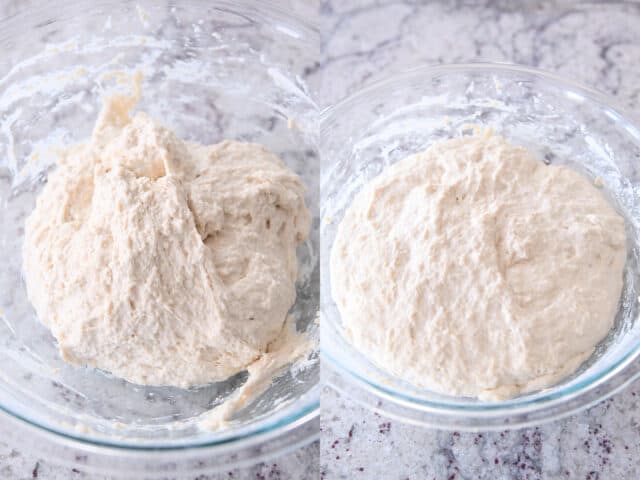 Because the dough is so soft and sticky, you won't be able to create much of a shape with your hands.
Instead, take a rubber spatula and scrape the dough away from the sides of the bowl toward the center.
Then, either:
Scrape the dough and plop it right into the prepared pan OR
Lightly grease your hands, grab the dough and quickly form as much of a round shape as you can, tucking the edges underneath (you can see a video of this on the peasant bread post)
Abandon the idea of a nice, smooth, taut loaf. That is not this bread, and that is ok. 👍🏼
Baking Pans
I prefer to bake this bread in a 9-inch pie plate. I like the shape of the finished loaf – not too tall, not too flat.
I find that the bread bakes slightly taller in my metal or ceramic pie plates, but a glass pie plate works well, too. Make sure to grease the pie plates VERY well with either nonstick cooking spray or a healthy amount of butter.
It's very normal for this bread to split on one side or the other while baking. That's due to a lot of reasons (namely the wetness of the dough + the sourdough oomph).
Fed Sourdough vs Sourdough Discard
Below, you can see there is a slight difference to the look of the baked bread when baked with fed sourdough vs sourdough discard.
The bread on the left was made with fed sourdough starter and the bread on the right was made with sourdough discard.
Both loaves are soft, fluffy, and perfect once sliced. The loaf with the fed sourdough starter is ever so slightly airier in texture.
Important Note: make sure to bake this bread fully.
Otherwise, because of the wet dough, it might be gummy inside. I've found this sourdough version needs a longer baking time than the original regular peasant bread recipe.
Pro Tip: If the bread starts to brown too much on top while baking, tent loosely with foil. If the bottom of the bread is browning too fast, move the pan to a higher oven rack (middle position or higher).
A Truly Fantastic Loaf of Bread
This bread is dangerously good.
The sourdough flavor is noticeable without being overpowering, and it makes the best side dish for just about any main dish (especially soup!)
When it comes to sourdough bread, this recipe could not be more approachable and user-friendly.
I have a feeling this is the recipe that's going to make sourdough bread bakers out of a lot of you. And that makes me very happy.
One Year Ago: Easy Chicken Enchilada Casserole
Two Years Ago: Snickerdoodle Brookie Bars 
Three Years Ago: Honey Balsamic BBQ Pulled Pork Sandwiches Instant Pot or Slow Cooker
Four Years Ago: Caramel Oat Chocolate Chunk Shortbread Bars 
Five Years Ago: Delicious Whole Grain Hulk Muffins Naturally Green!
Six Years Ago: Thin and Chewy Funfetti Blondies From-Scratch
Seven Years Ago: Lemon Sticky Buns with Lemony Cream Cheese Glaze
Eight Years Ago: Skillet Baked Spaghetti One Pot, 30-Minute Meal 
Nine Years Ago: Sweet Baked Ham
Ten Years Ago: No-Bake Nutella Cheesecakes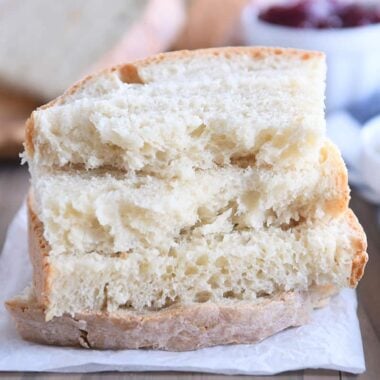 Easy No-Knead Sourdough Peasant Bread
3 ½

cups

(

497 g

)

all-purpose or bread flour

2

teaspoons

granulated sugar

2

teaspoons

instant yeast (see note)

1 ½

teaspoons

salt

1 ½

cups

(

338 g

)

warm water

1

cup

(

275 g

)

sourdough starter (fed or discard)
In a large bowl, add the flour, sugar, yeast and salt. Whisk to combine. Add the water and sourdough starter and mix with a rubber spatula or wooden spoon until the ingredients form a shaggy, sticky ball and no dry streaks remain.

Cover the bowl and let the dough rise until doubled, about 1 to 1 1/2 hours.

Place an oven rack in the center position. Preheat the oven to 425 degrees F.

Generously grease a 9-inch pie plate or 8 1/2-by-4 1/2-inch loaf pan with cooking spray or butter. (See note for other pan sizes/options.)

Scrape the dough away from the sides of the bowl with a rubber spatula, forming a rough ball in the center of the bowl. Lightly grease your hands with cooking spray or oil and place (or just kind of plop!) the dough in the prepared pan. The loaf will not be completely smooth and may look a bit rough in shape, that's ok! You can try to form the dough into a rough ball shape, tucking the edges under, but if it's too sticky, just get it in the pan. 🙂

Let the dough rest, uncovered, for 15-20 minutes until slightly puffy.

Bake for 15 minutes. Reduce the heat to 375 degrees F and continue to bake for 25-30 minutes until golden. Let the bread cool completely before slicing (see note).
Salt: I use table salt for this recipe. If using coarse, kosher salt, increase the salt to 2 to 2 1/2 teaspoons.
Yeast: I have not tried this recipe with active dry yeast, but it should work – dissolve 1 tablespoon active dry yeast in 1/4 cup warm water until foamy and bubbling and decrease the water in the recipe by 1/4 cup – use the yeast mixture in the recipe when adding the rest of the water. 
Baking Pans: I prefer baking the dough in one loaf. However, the dough can be split into two pieces and baked in smaller bowls or pans (about 1 quart in size). Many people bake this dough in greased pyrex bowls, but I prefer pie plates or loaf pans. 
Sourdough Starter: I have not tried this recipe using 100% sourdough starter and omitting the yeast, because recipes like that need much longer rising times (often overnight), and I prefer this recipe to be quicker and easier. If using fed sourdough starter, you can probably get away with reducing the yeast to 1 teaspoon.
Warm Bread: warm, homemade bread is hard to resist…and I'm not going to tell you NOT to slice into this loaf warm; however, the bread will be softer and fluffier if it cools completely. 
Follow @MelsKitchenCafe on Instagram and show me the recipes you are making from my blog using the hashtag #melskitchencafe. I love seeing all the goodness you are whipping up in your kitchens!
Disclaimer: I am a participant in the Amazon Services LLC Associates Program, an affiliate advertising program designed to provide a means for me to earn fees by linking to Amazon.com and affiliated sites. As an Amazon Associate I earn from qualifying purchases.


[ad_2]

Source link