Easy Homemade Crescent Rolls | Cookies and Cups
[ad_1]

Up your dinner roll game with these Easy Homemade Crescent Rolls! These soft and fluffy, sweet and flaky crescent rolls are heavenly slathered with butter. Making them from scratch has never been easier!
Love baking bread? Try my Sweet Dinner Rolls too! Just the perfect amount of sweetness, ready to spread with butter!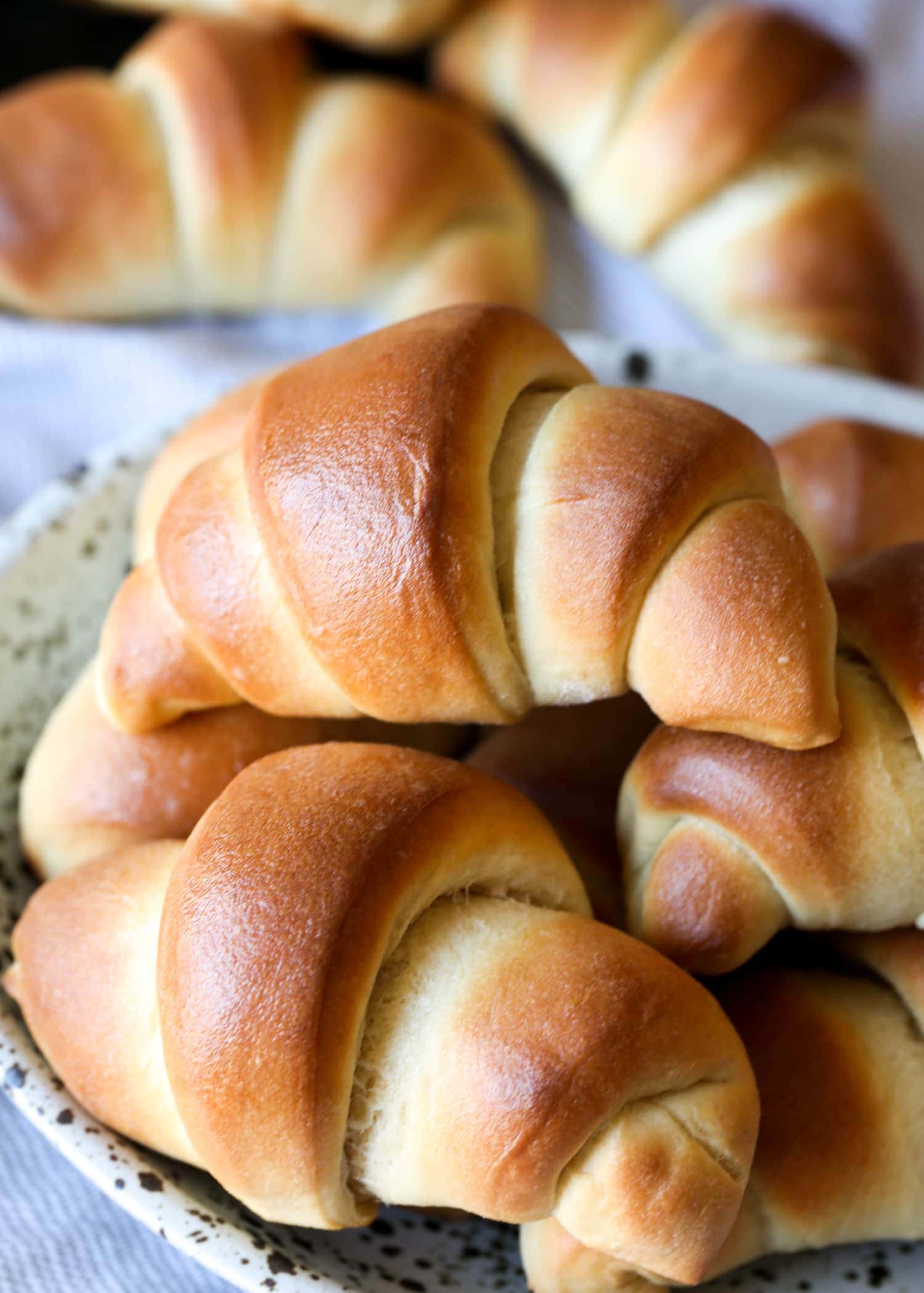 Fluffy Homemade Crescent Rolls
I just love a fresh and buttery, light and flaky, perfect dinner roll made from scratch. Like my Fluffy Homemade Hawaiian Rolls, this recipe for easy homemade crescent rolls is fast becoming a family favorite. 
These soft and sweet, slightly crusty crescent rolls are easy enough to make for everyday dinners and fancy enough to dress up any meal when entertaining. The ingredients are simple and the results are so delicious! We love serving these golden baked rolls next to soups and roasts since they're perfect for soaking up broths and sauces.
Why Make Dinner Rolls From Scratch?
Sure, anyone can pop into the local refrigerator aisle and pick up a tube of crescent roll dough. But we all know that everything tastes better from scratch, and these homemade crescent rolls are no exception! These rolls are supremely easy to make, and so worth it. This recipe is fresh and fluffy, quick to bake, and nothing compares to a tender and buttery, pull-apart crescent roll that's warm from the oven. Nothing!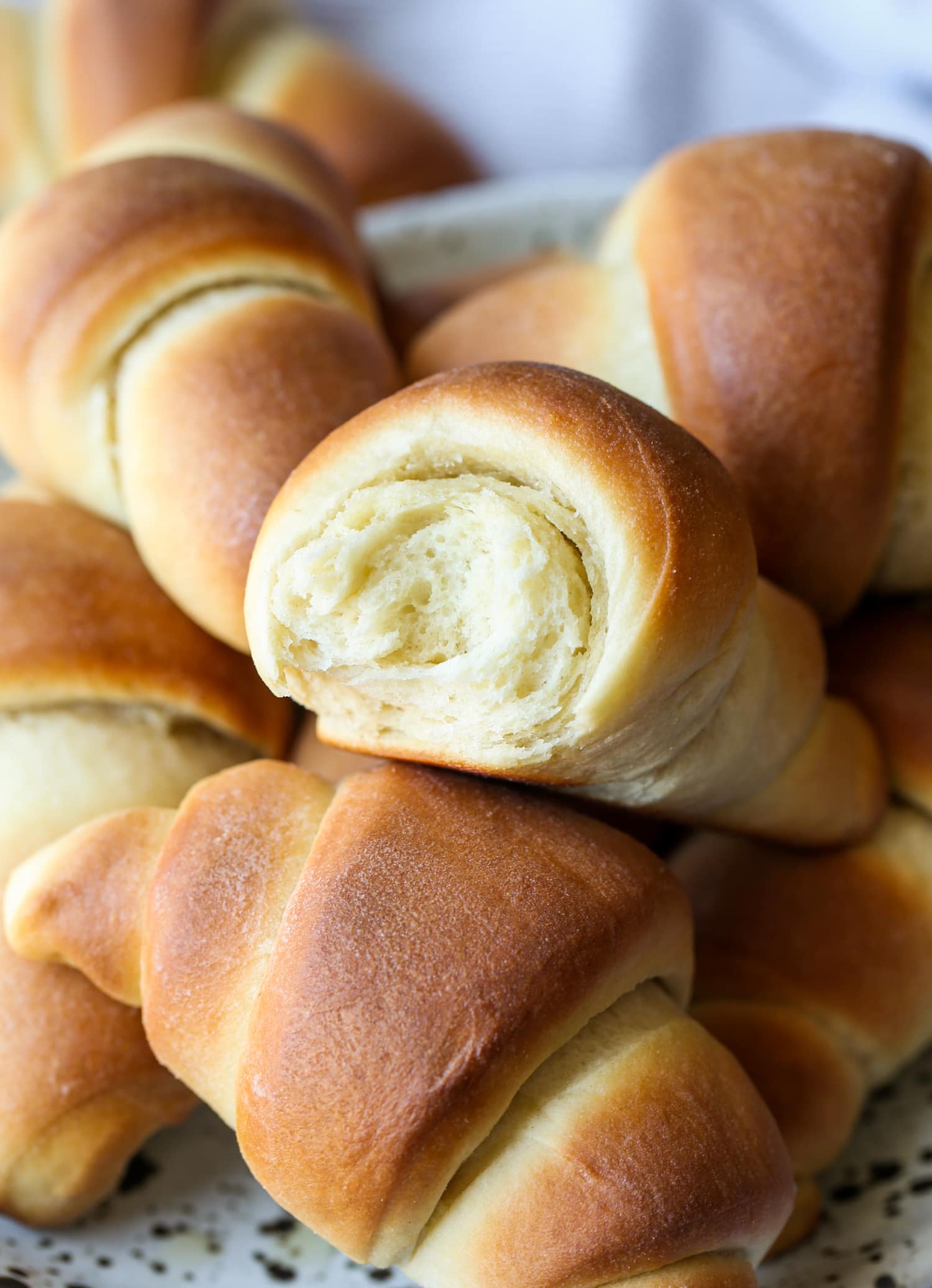 What You'll Need
Instant Yeast: You can also use regular dry active yeast if you prefer, and adjust the rising time accordingly. See my tips section below for more details!
Warm Water: You'll need warm water (between 110°F and 115°F) to dissolve and activate the yeast.
Butter: At room temperature. Taking your ingredients out of the fridge ahead of time lets them combine more easily into the dough and also bake more evenly.
Eggs: Also brought to room temperature. 
Sugar: Regular granulated sugar is best. This is needed to feed the yeast and also lend a bit of sweetness to the crescent roll dough.
All-Purpose Flour
Salt
How to Make Crescent Rolls
Make the Dough: Combine the instant yeast, water, part of the butter, eggs, sugar, and salt. Slowly add in the flour and continue to beat until a smooth dough forms. You can also do this part by hand, and knead the dough until you reach a nice consistency. 
Rise: Place the bowl, covered, in a warm location and leave the dough to rise until doubled in size. This should take about an hour.
Roll the Dough: Roll the dough out into a large circle, and then cut the circle into equal-sized wedges. Roll up the wedges starting with the widest edge. Transfer the rolls onto a baking sheet lined with parchment paper and leave them to rest under a towel while the oven preheats.
Bake: Remove the towel and bake the rolls in a 400°F oven until they're puffed up and golden. Once the rolls are out of the oven, brush the tops with melted butter and then serve right away or let them cool. They're delicious either way!
Tips for Success
If You're Using Regular Dry Yeast: Regular dry active yeast will need to be dissolved in the warm water 5 minutes before it's added to the rest of the ingredients in step one. Also note that the rise time will need to be increased by 30 minutes to an hour on both rises, to give the dough enough time to double in size.
Make the Dough a Day Ahead: You can prepare the dough ahead of time, and place the unrisen dough in the fridge overnight. Take the dough out of the fridge about a half hour before continuing with the recipe the following day.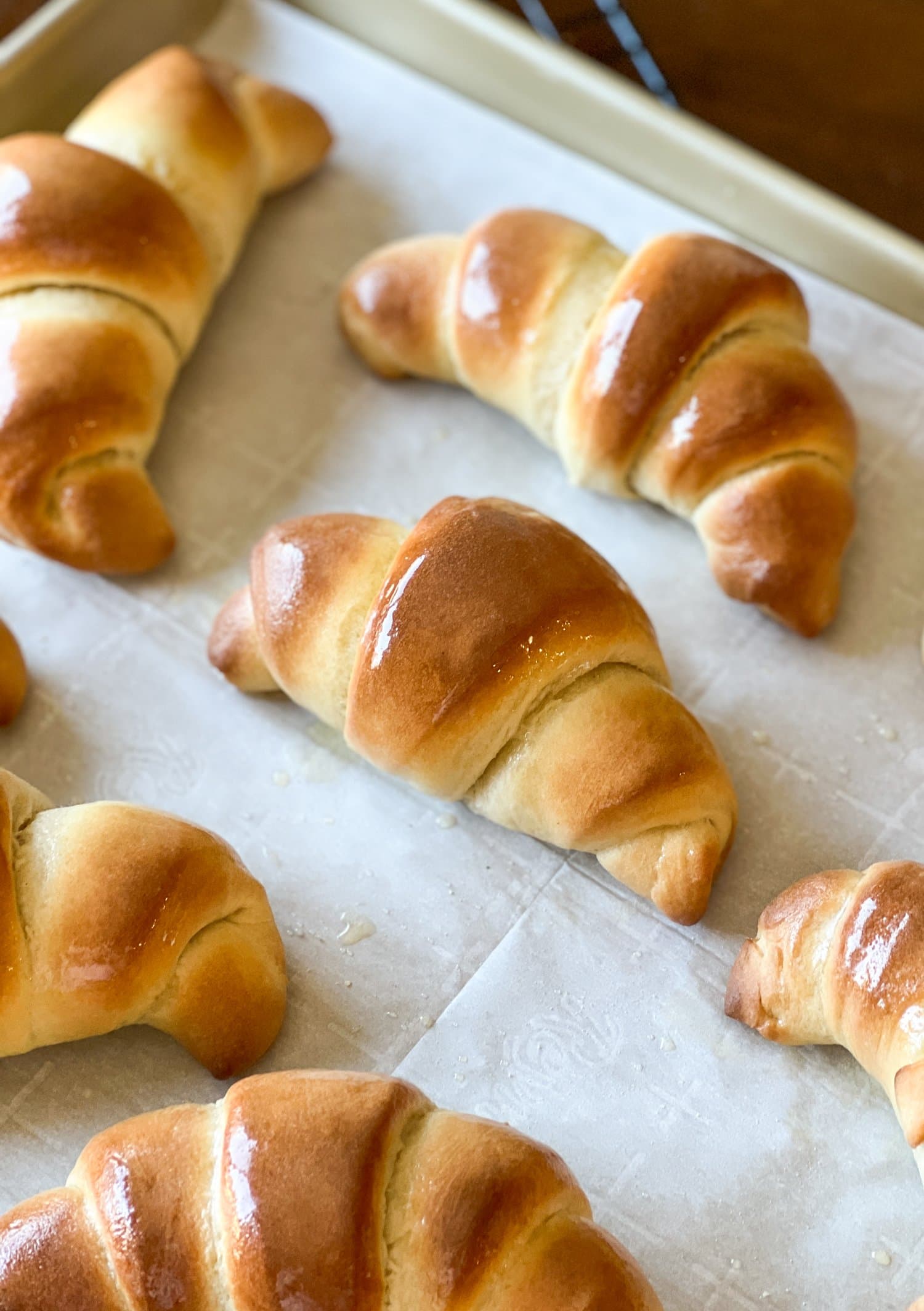 Ways to Serve Them
I love these homemade crescent rolls served warm with a smear of butter. They make a perfect addition or side dish to family dinners, and are still fancy enough for entertaining! Here are just some ways to serve them: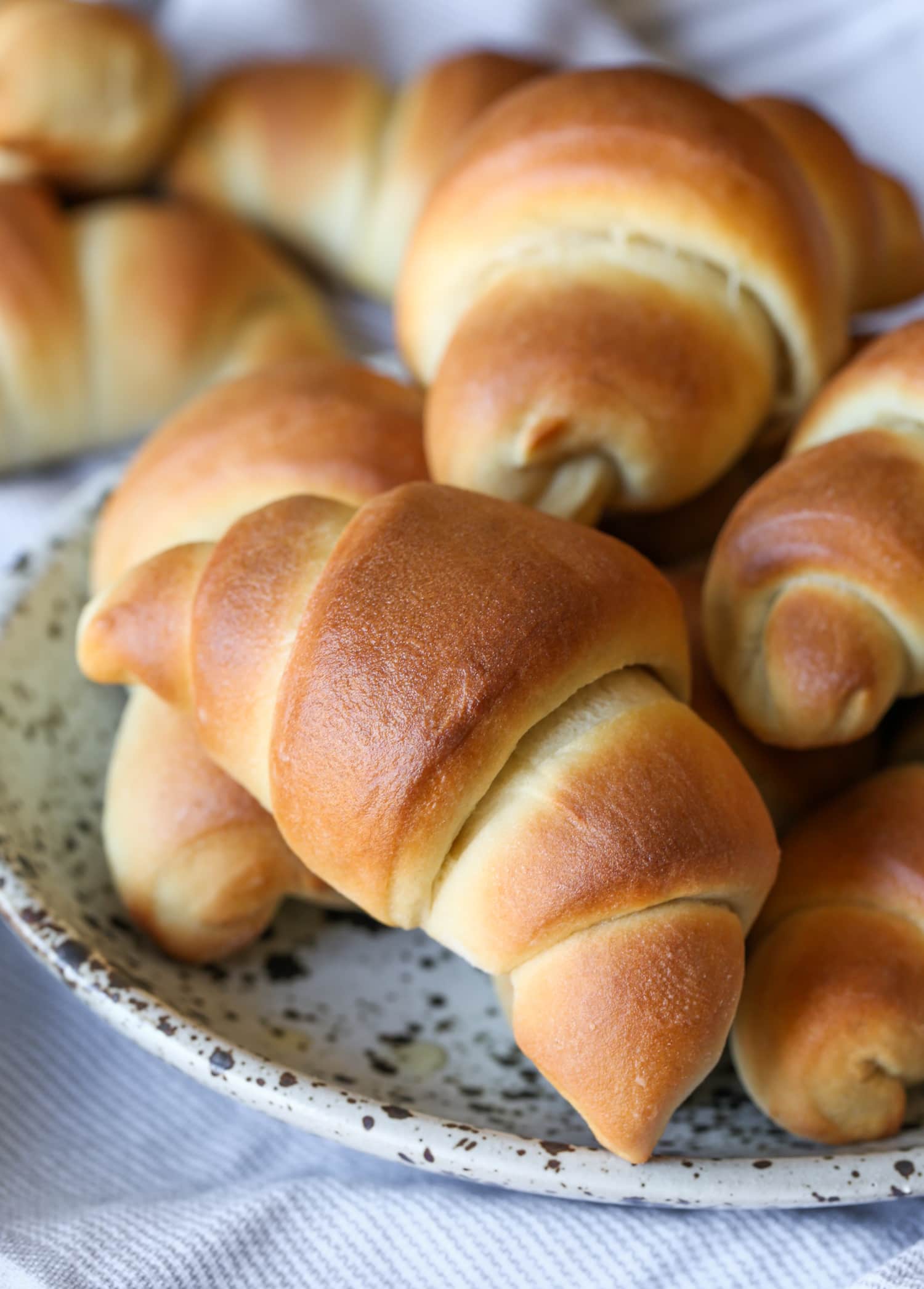 How to Store Extras
After they've cooled, store these crescent rolls airtight at room temperature for up to 2 days.
Can I Freeze These?
Yes! These homemade crescent rolls will keep frozen for up to one month. Store them in a freezer-safe bag or container and reheat the rolls in the oven on low for 10-15 minutes whenever you're ready to serve them.
Print
Easy Homemade Crescent Rolls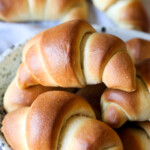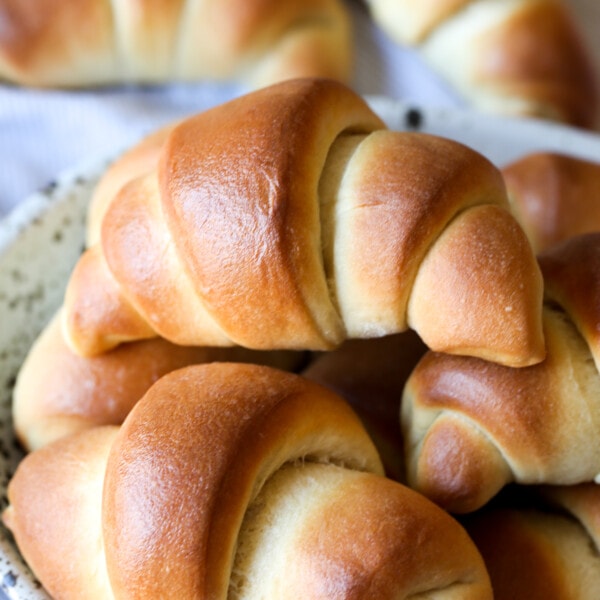 ---
Description:
Easy Homemade Crescent Rolls are soft, sweet and fluffy and heavenly slathered with butter. Making these from scratch has never been easier!
---
Scale
Ingredients:
3 teaspoons

instant yeast (*see note)

3/4 cup

warm water (110°F – 115°F)

3/4 cup

butter, divided at room temperature

2

large eggs, room temperature 

1/3 cup

granulated sugar

1 1/2 teaspoons

kosher salt

3 3/4 cups

all purpose flour, divided
---
Instructions
In the bowl of your stand mixer fitted with the paddle attachment combine the yeast, water, 1/2 cup butter, eggs, sugar, and salt. Mix together on medium speed for 1 – 2 minutes, until combined. 

Turn the mixer down to low and add in the remaining flour until combined. Replace the paddle attachment with the hook attachment and mix on medium speed for 6 – 8 minutes, until a soft, smooth dough has formed. Alternatively you can knead the dough by hand if desired. 

Cover the bowl with a towel, place in a warm, non-drafty place and allow the dough to rise until doubled in size, 45 minutes – 1 hour.

When the dough is doubled, transfer it to a lightly floured surface and roll into a 15- inch circle. Using a knife or pizza cutter, cut the dough into 14 equal wedges. Starting with the wide edge, roll the dough up. Place the rolls on a parchment lined baking sheet, and cover with a towel. 

Preheat the oven to 400°F. Allow the rolls to rest, covered, while the oven is preheating, 10 – 15 minutes. 

Remove the towel and bake for 10 minutes, until golden brown. Remove the rolls from the oven and melt the remaining 1/4 cup butter. Brush the melted butter on top of the warm rolls.

Serve warm or at room temperature.
---
Notes:
*If you would like to use regular dry active yeast instead of instant, dissolve the yeast in the warm water for 5 minutes before adding the remaining ingredients in step #1. Also you will need to increase the rise time 30 minutes – 1 hour, to allow the dough to double in size (on both rises).
To Store: store airtight for up to 2 days.
Make ahead instructions: Prep the dough as stated in steps 1 – 2. Place the unrisen dough in the refrigerator to rise slowly overnight. Remove the dough from the refrigerator 30 minutes before starting step 4.
Keywords: homemade rolls, dinner roll recipe
Want To Save This Recipe?
PIN for later: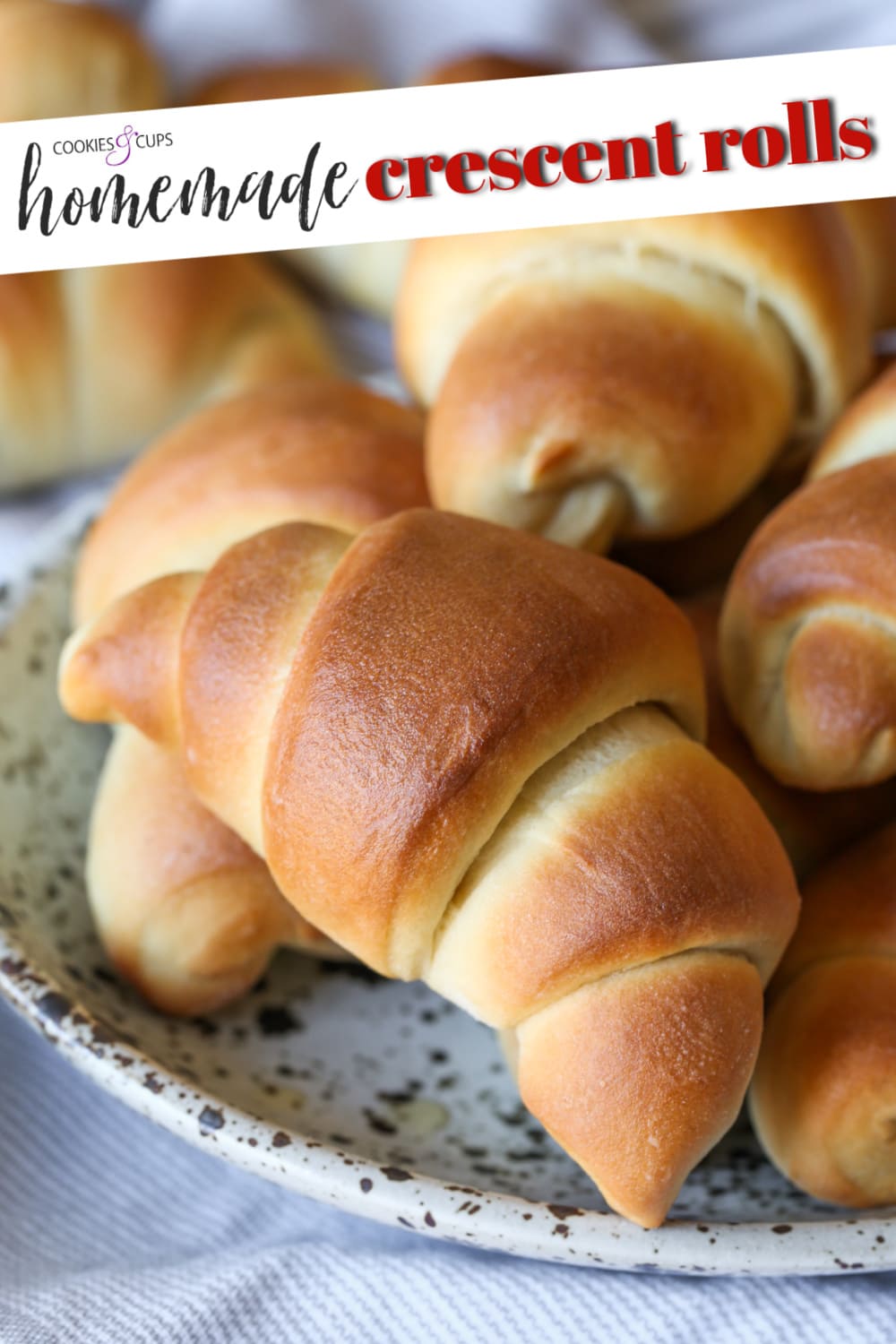 [ad_2]

Source link