Chocolate Chip Blended Oatmeal Cookies
[ad_1]

These soft and chewy chocolate chip blended oatmeal cookies are fantastic! Blending the oats gives the cookies the perfect texture (and flavor!).
Nothing beats a really delicious chocolate chip cookie. And this version with blended oatmeal gives all the delight and flavor of an oatmeal chocolate chip cookie with a soft and chewy texture.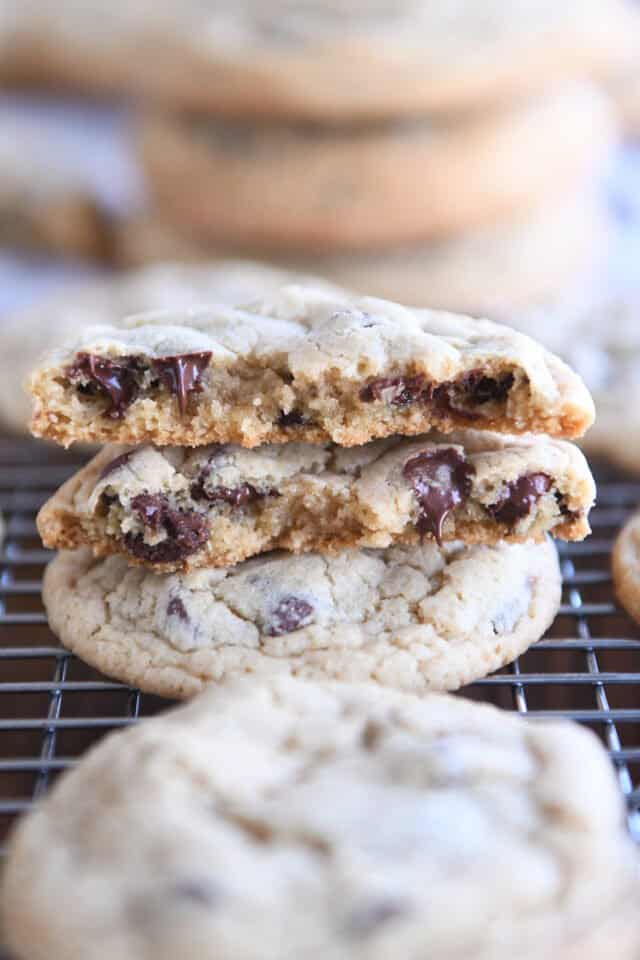 Quick and Easy Cookie Dough
And because I'm all about cookie options, I am also including details on how to make these cookies bakery-style (read: super big and super amazing).
You know, just in case you want to pretend like you are running a bakery out of your house and the only customer is yourself. (Wait, am I the only one wanting to live that dream?)
As far as cookie doughs go, this recipe is straightforward and comes together fast.
You'll have warm, ooey, gooey chocolate chip oatmeal cookies staring you in the face before you can strategically manage who is going to wash the mixing bowl.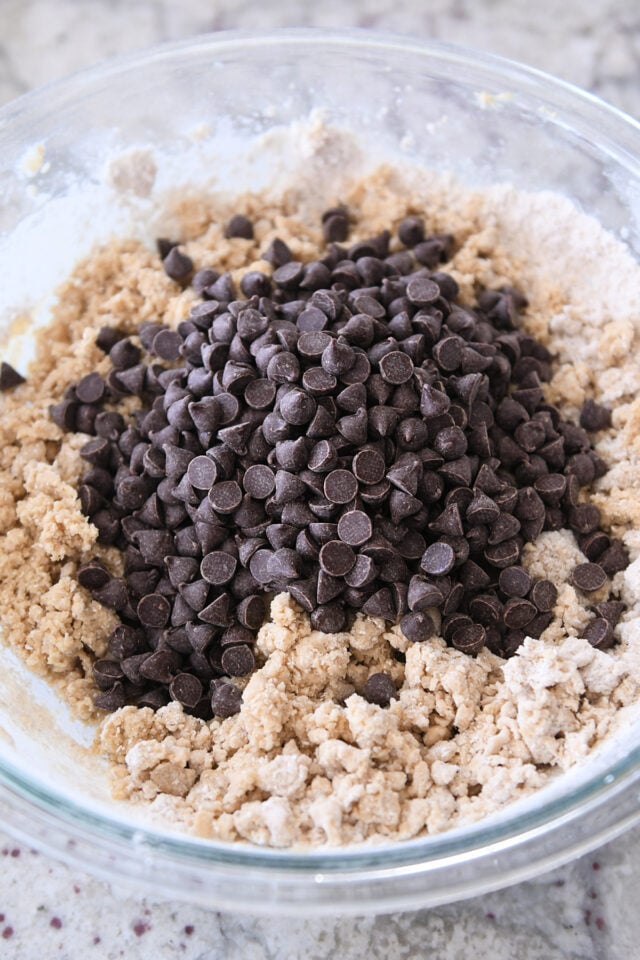 Blended Oats
For this recipe, the oats are blended until the texture resembles a coarse flour. I use my blender for this; a food processor will also work.
I have only ever used old-fashioned rolled oats, but I'm guessing quick oats will work fine, too. If using quick oats, measure with a light hand (or weigh the oats).
Why blend the oats? You get wholesome oat-y flavor throughout the entire cookie without the chewy textural logistics of using whole oats.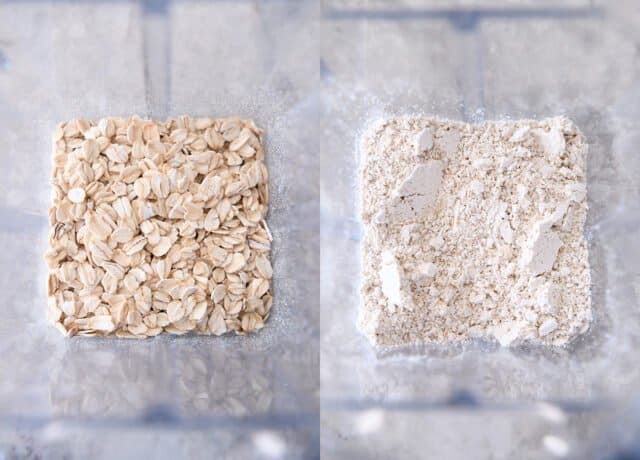 Soft and Chewy Cookies
At first glance, the cookies may look like a regular soft and chewy chocolate chip cookie (although if you really get down there in the cookie's personal space, you might notice some of the pretty little oat flecks).
But one bite and you'll quickly realize you're eating an intensely delicious chocolate chip oatmeal cookie. They are hearty and decadent all at the same time.
A Perfect Little (or Big) Cookie
I recently made over 300 of these cookies for the freezer (for an upcoming church event). I only technically need 265 for the event, but I deliberately planned the excess to give me a chance to sneak a few from the freezer.
And, sneak a few I have. All in the name of research, of course. I'm pleased to report these cookies freeze very, very well.
If using a #40 cookie scoop (about 2 tablespoons of dough), the batch will yield around 30-36 cookies. The cookies can also be made extra large, bakery style. Weighing out about 5.25 ounces/147 grams of dough for each cookie will yield about 10 huge cookies (add a few minutes to the baking time).
Cookie Dough Troubleshooting
Why are my cookies flattening in the oven?
Cookies can flatten for a lot of different reasons. How the dry ingredients are measured. Exact temperature of the oven (ovens can vary widely even if set at the same temp!). High or low elevation. Butter that is too soft.
SOLUTION: if your cookies are flattening too much in the oven, add 1/4 to 1/2 cup more flour or blended oats to the cookie dough OR increasethe oven temperature to 375 degrees F and bake 1-2 minutes less time. And make sure for next time that the butter is soft without being puddly and melty.
Why are my cookies NOT flattening in the oven?
For all the reasons cookies can flatten, there are just as many for why cookies don't flatten. It can be frustrating! But it's easy to troubleshoot. The most likely reason for cookies staying in puffy mounds is because the dry ingredients were over measured. This can happen if flour or other dry ingredients are packed into the measuring cup.
SOLUTION: when possible, I recommend using a kitchen scale to weigh the dry ingredients using the gram amounts given in the recipe. But if you don't have a kitchen scale, make sure to fluff up the flour, scoop and then level (vs shaking the flour into the cup or scooping out packed flour).
If you've already made the cookie dough, try lowering the bake temperature to 320 or 325 degrees (and then keep an eye on the dry ingredients next time). Baking the cookies at a lower temperature can help them flatten a bit more.
One Year Ago: Butterscotch Rice Krispie Treats 
Two Years Ago: Crunchy Baked French Toast Sticks
Three Years Ago: One-Bowl Chocolate Chip Muffins Whole Grain Option!
Four Years Ago: Thai Mango Chicken Red Curry with Coconut Rice Quick and Easy
Five Years Ago: Simple Weeknight Greek Chicken Burritos or Wraps!
Six Years Ago: Doubletree Hotel Copycat Chocolate Chip Cookies 
Seven Years Ago: Sweet Molasses Bread Restaurant Knock-off
Eight Years Ago: Baked Shrimp and Orzo with Feta Cheese
Nine Years Ago: Italian Lasagna Rolls 
Ten Years Ago: Spring Penne Pasta with Light Butter Sauce
Chocolate Chip Blended Oatmeal Cookies
1

cup

(

227

g

)

butter (I use salted), softened

1

cup

(

212

g

)

packed light brown sugar

¾

cup

(

159

g

)

granulated sugar

1

teaspoon

baking soda

1

teaspoon

baking powder

¾

teaspoon

salt

2

large

eggs (100 g out of shell)

2

teaspoons

vanilla extract

1 ½

cups

(

150

g

)

old-fashioned rolled oats

2 ¼

cups

(

320

g

)

all-purpose flour

2

cups

(

340

g

)

semisweet chocolate chips (see note)
Preheat the oven to 350 degrees F. Line baking sheets with parchment paper.

In a large bowl with a handheld electric mixer or in a stand mixer fitted with the paddle attachment, add the butter, brown sugar, granulated sugar, baking soda, baking powder, and salt. Mix well until light and fluffy, 1-2 minutes, scraping down the sides of the bowl as needed.

Add the eggs and vanilla. Mix until well-combined, scraping down the sides of the bowl as needed.

Measure the oats into a blender or food processor and process until the oats are blended into a coarse powder.

Add the oats and flour to the bowl and mix until a few dry streaks remain. Add the chocolate chips and mix until evenly combined.

Scoop the cookie onto the prepared baking sheets (I use a #40 cookie scoop – it holds a couple tablespoons of dough), spacing them a few inches apart. See note for making/baking large bakery-style cookies.

Bake for 10-12 minutes until just lightly golden around the edges but not too dark. Remove to a cooling rack and let cool completely.
Really Big Cookies: this recipe can also make 9-10 REALLY large bakery-style cookies. I weigh the dough (about 150 g/5.25 oz each cookie) and place them 4- to 5-inches apart on the baking sheet and bake for 13-15 minutes. 
Oats: I haven't tried using quick oats for this recipe, but it will probably work (use the same amount or slightly less).
Chocolate Chips: Ok, fine, you can use milk chocolate chips if you have to. 🙂
Yield: If using a #40 cookie scoop (about 2 tablespoons of dough), the batch will yield around 30-36 cookies. The cookies can also be made extra large, bakery style. Weighing out about 5.25 ounces/147 grams of dough for each cookie will yield about 10 huge cookies (add a few minutes to the baking time).
Serving: 1 cookie, Calories: 130kcal, Carbohydrates: 18g, Protein: 2g, Fat: 6g, Saturated Fat: 3g, Cholesterol: 24mg, Sodium: 137mg, Fiber: 1g, Sugar: 10g
Follow @MelsKitchenCafe on Instagram and show me the recipes you are making from my blog using the hashtag #melskitchencafe. I love seeing all the goodness you are whipping up in your kitchens!
Recipe Source: from Mel's Kitchen Cafe
Disclaimer: I am a participant in the Amazon Services LLC Associates Program, an affiliate advertising program designed to provide a means for me to earn fees by linking to Amazon.com and affiliated sites. As an Amazon Associate I earn from qualifying purchases.


[ad_2]

Source link