Coconut Cream Poke Cake Recipe
[ad_1]

This Coconut Cream Poke Cake is a coconut lover's heaven! White cake is soaked with coconut cream, then topped with cool whip and shredded coconut in this easy poke cake recipe. Perfect for those summer potlucks!
I never get sick of poke cakes. It's impossible to choose a favorite, but this Coconut Poke Cake is at the top of my list, along with Lemon Poke Cake and Banana Split Poke Cake.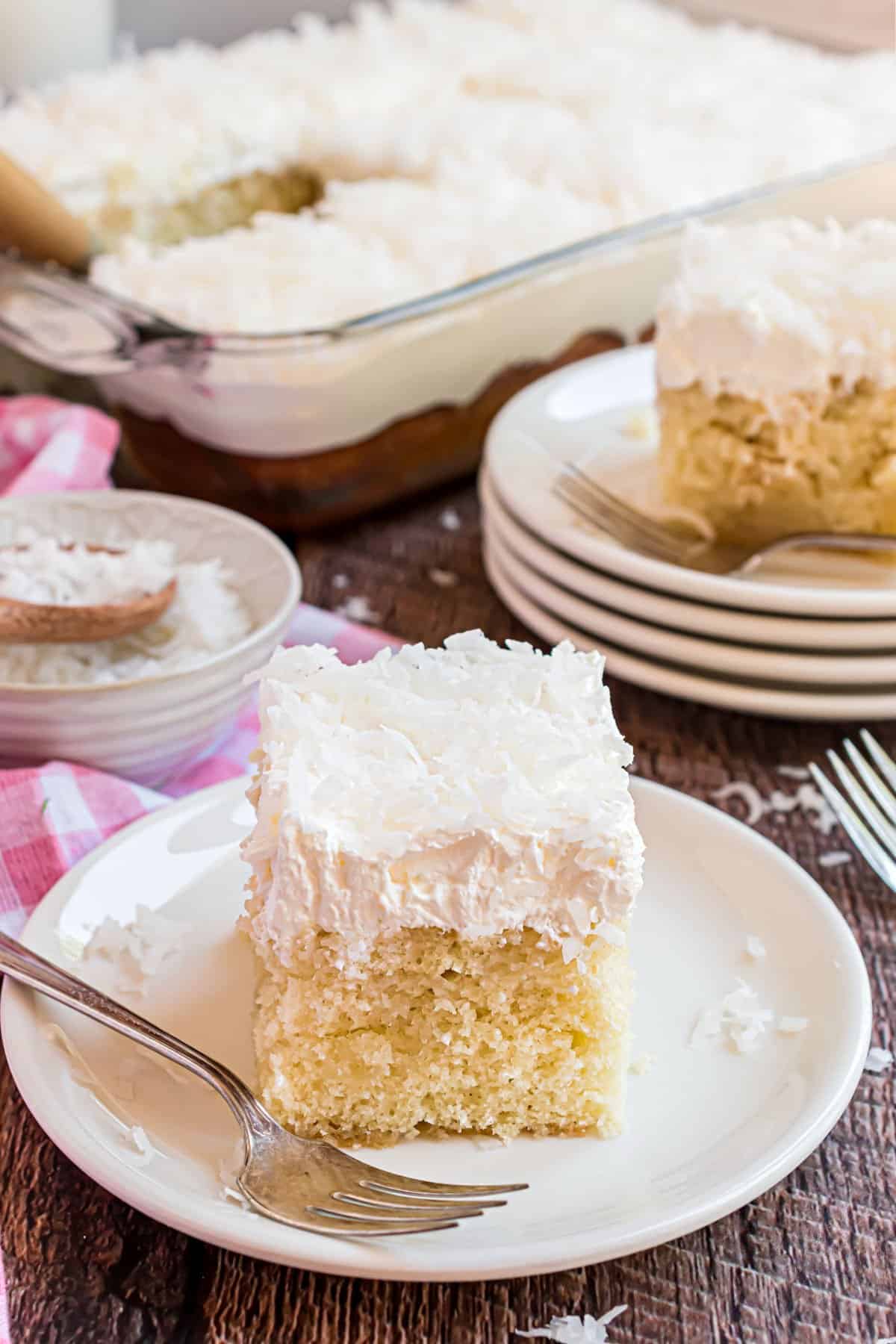 Why This Coconut Cake is Best
A lot of my coconut desserts pair coconut with another flavor. For instance this lemon coconut cake or our homemade mounds candy (with chocolate).
But sometimes you just want that rich, sweet coconut flavor without all the distractions. And while making our homemade coconut cake recipe is awesome, there are times where you want something easier.
Enter: Coconut Cream Poke Cake!
Starts with a box of white cake mix.
Cream of coconut saturates the cake with moisture and richness.
Covered in whipped topping and sweet coconut flakes!
A delicious chilled dessert for summer!
If you love coconut desserts, this poke cake recipe is a must-try.
Ingredient Notes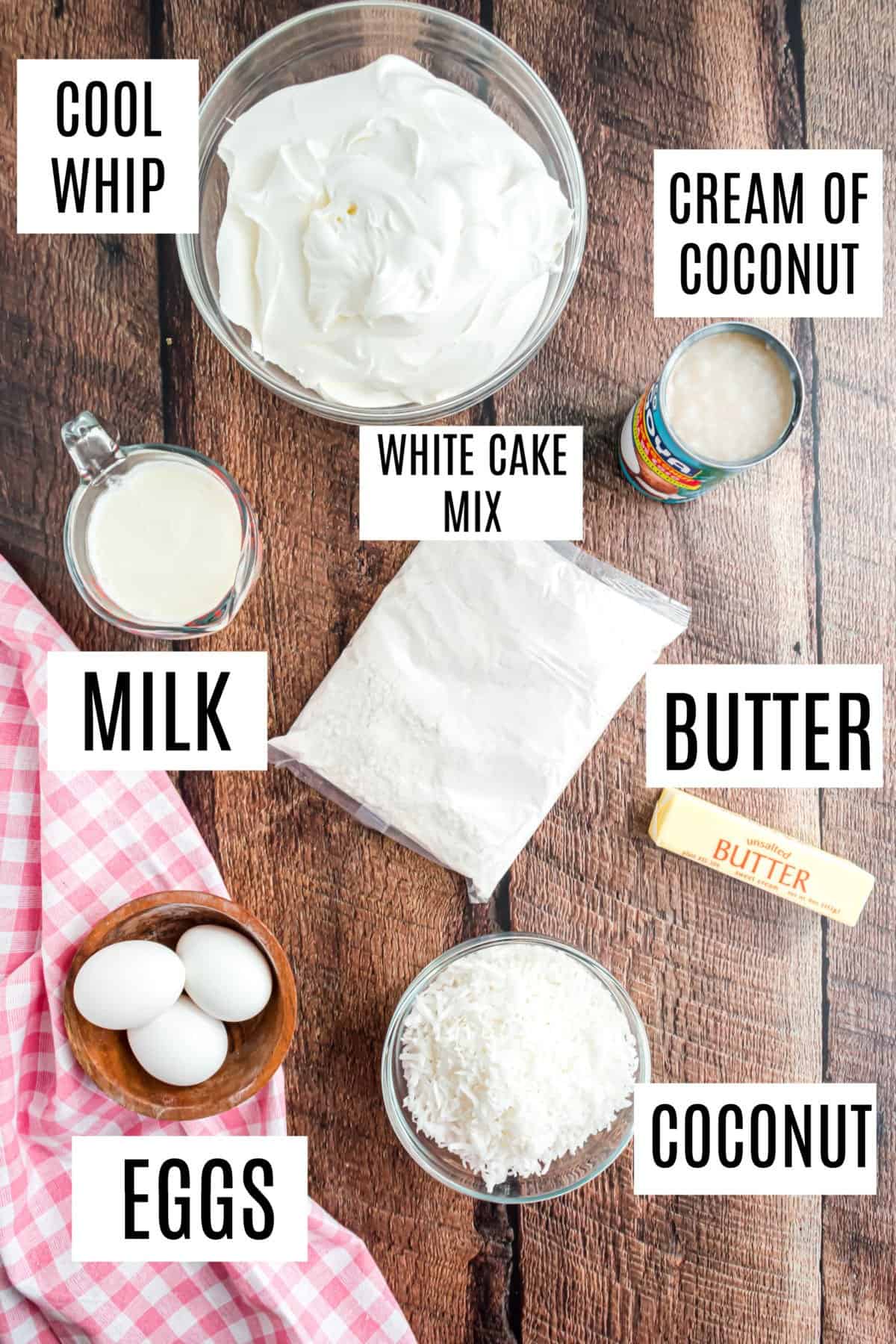 Making today's recipe is simple enough with ingredients you may already have in your pantry. Be sure to scroll down all the way to the recipe card for a complete list with exact measurements.
White cake mix – This is the basis for our coconut cream cake! You will beat it with milk, butter and eggs to form a smooth batter.
Cream of coconut – A sweet syrupy coconut cream we pour over the poked cake for the best decadent flavor and moisture. You can often find cream of coconut near the cocktail mixers at your grocery store.
Whipped topping – We use this as a "frosting" for the poke cake. You can use a tub of store bought Cool Whip or try our homemade cool whip. Homemade whipped cream is also delicious on top.
Shredded sweetened coconut – You can add it to the cake straight from the package or toast the coconut first.
Easy Instructions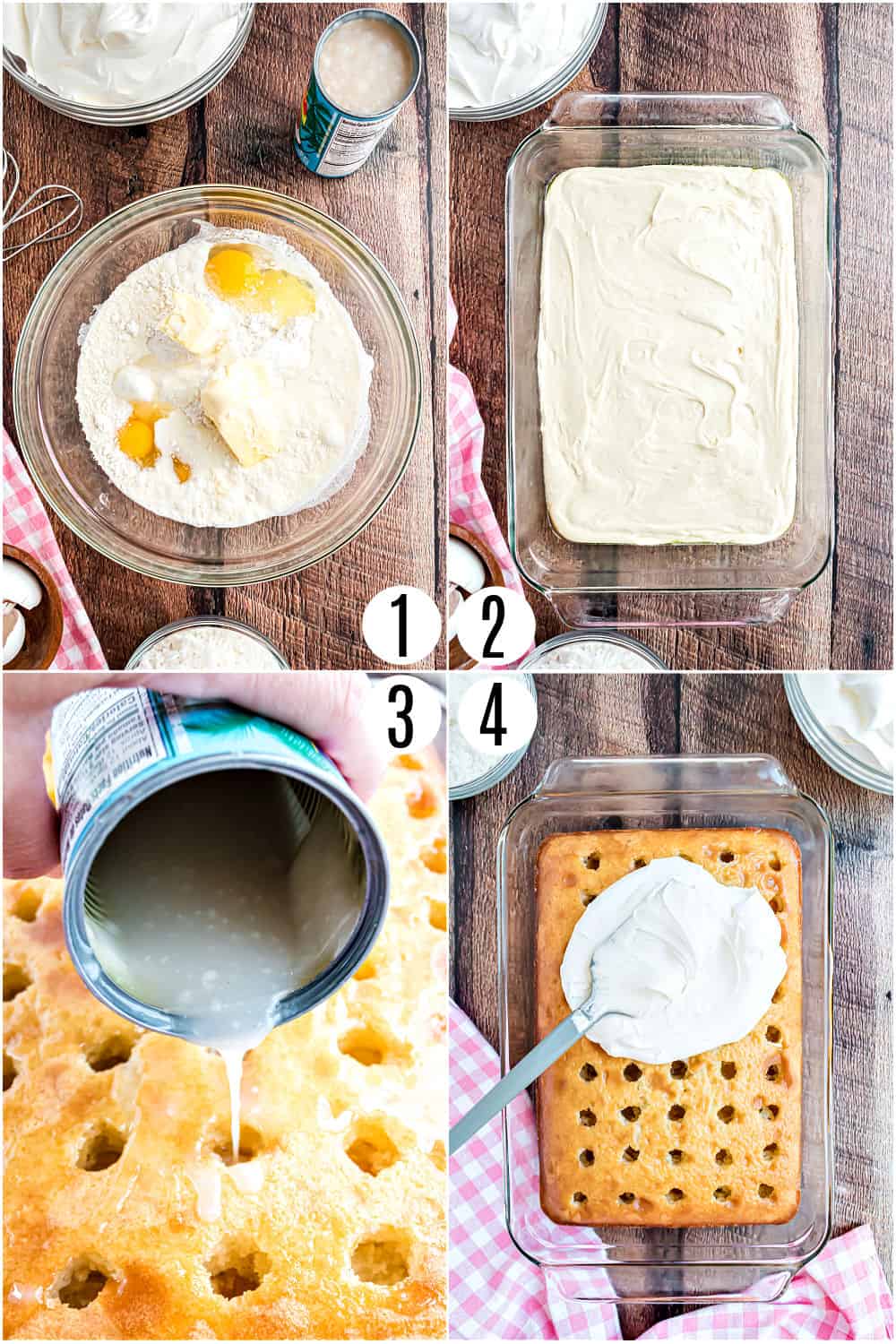 This Coconut Cream Poke Cake is one of the least fussy cake recipes you can make.
Here's how you do it:
Make a white cake.
Poke it all over to create holes.
Pour cream of coconut over the whole thing.
Chill for four hours.
Top with whipped topping and coconut flakes.
Then you're ready to slice it, serve it and bask in the praise you'll get from your dinner guests when you serve them this cake!
Tips and Tricks
I use the handle of a wooden spoon to create holes in my poke cakes. A skewer or the tines of a fork work, too!
Use a spatula to help spread the cream of coconut evenly across the top of the cake. You want every nook and cranny to absorb that syrupy coconut goodness.
Store leftovers in the refrigerator covered with foil or in an airtight container. This cake tastes best when its nice and cold.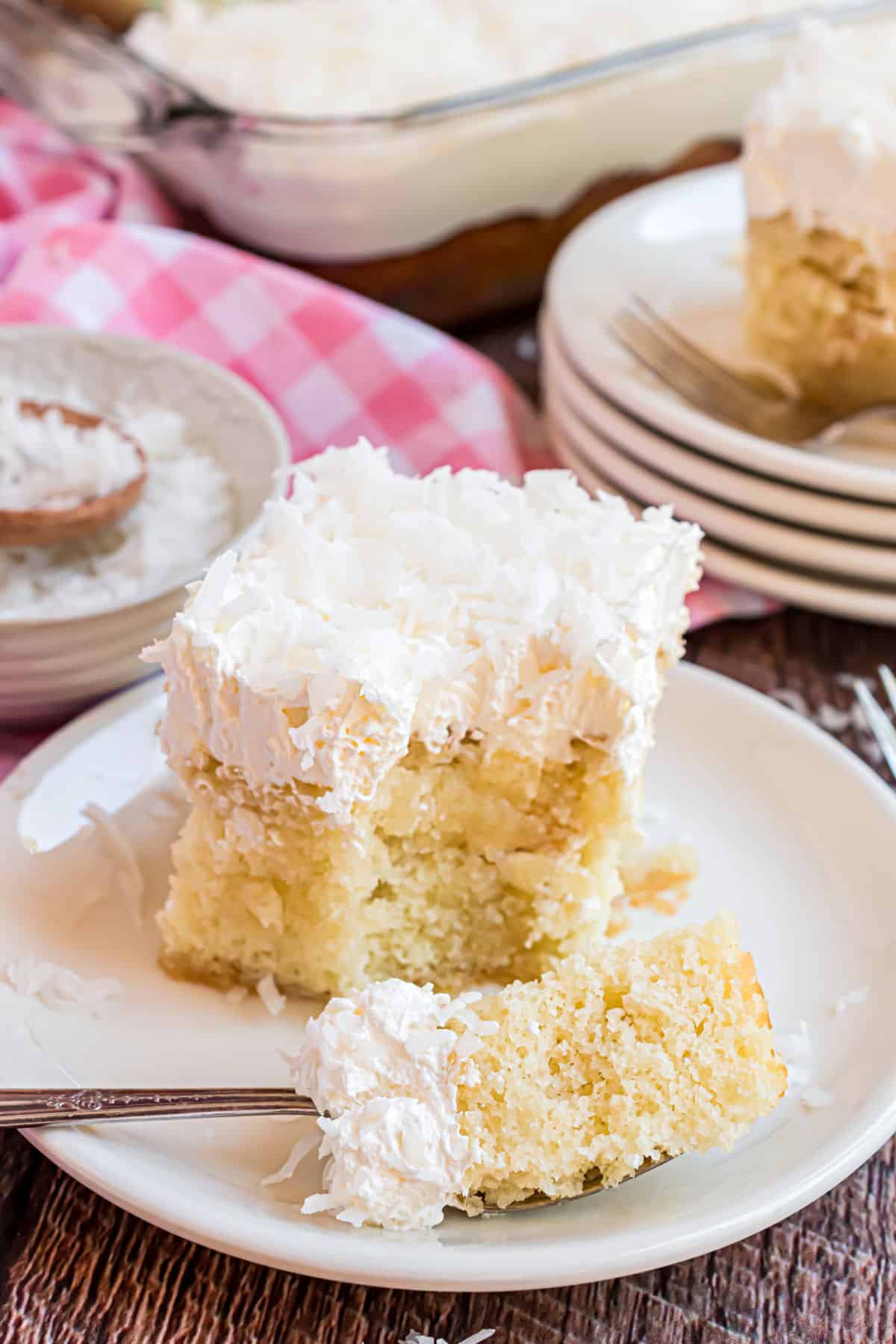 Recipe FAQs
Are cream of coconut and coconut cream the same?
No, they are not. Coconut cream is a product made from the fat solids of coconut milk. As coconut milk sits, the solids rise to the top, creating a thick substance similar to dairy cream! Cream of coconut is coconut cream that's been sweetened and thickened even more. It's similar to sweetened condensed milk but with a real coconut flavor. Make sure to use cream of coconut in this recipe. NOT coconut cream, or you'll get a very different result.
Can I make this recipe with a white cake made from scratch?
Absolutely! Your favorite from-scratch white cake recipe will work beautifully here, as long as you bake it in a 9 x 13 pan.
I happen to love the results when I used a boxed mix. Not to mention the convenience!
Can I use fresh whipped cream instead?
You could use fresh whipped cream, but it would get runny over time. The stabilized whipped cream holds its shape, which makes it better for using as a "frosting" on cakes and cupcakes.
More Easy Cake Recipes
Coconut lovers will fall head over heels for this incredible Coconut Cream Poke Cake!


[ad_2]

Source link